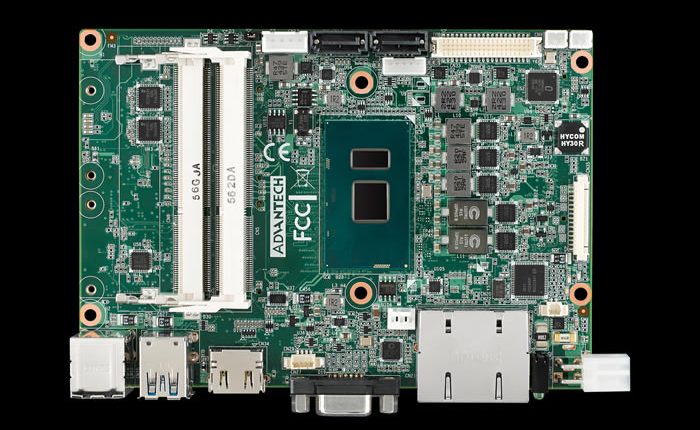 SBC delivers improvements in CPU processing
Today's applications are generating increasing volumes of data, with the rise of IoT and intelligent systems, thus escalating the demand for greater performance, high network connectivity and smart manageability.
Advantech has announced the release of its MIO-5272 SBC in a 3.5" MI/O Extension (146×102 mm) form factor, based on Intel 6th gen Core i7/i5/i3/Celeron processors with triple independent display capability.
Advantech has developed an optimized thermal solution for MIO-5272, making fanless design possible on this kind of compact, high performance platform under wide temperature environment (-40-85℃). MIO-5272 comes with Advantech's iManager and WISE-PaaS/RMM integrated to monitor and control system operation remotely and effectively. These tools increase system reliability and provide a smarter software framework for the embedded customer, helping to speed up time-to-value for IoT and intelligent system design.
SBC with 6th gen Intel Core i Processors
Today's technology solutions and applications are increasingly compute-intensive, driving the need for superior performance. MIO-5272 adapts the latest microarchitecture with 64-bit, multi-core processors built on 14nm process technology. It delivers improvements in CPU processing, graphics, security capabilities and I/O flexibility. With an upgrade to Intel AVX 2.0, MIO-5272 shows a big enhancement in integer/matrix-based calculation abilities, with Intel AES-NI allowing security algorithms to take advantage of hardware acceleration for data encryption and decryption. In terms of overall performance, MIO-5272 offers over 30% improvement in Processor Arithmetic (GOPS) and more than double in graphics performance, compared to the previous version with Intel 4th gen. Core i Processors; moreover, it allows system integrators to build intelligent systems more easily with improved performance and reliability.
The most advanced 3.5" MI/O extension SBC
In response to ever-increasing embedded application demands from mobile broadband networks such as video transmission for traffic or multimedia playback systems on public transport, MIO-5272 supports dual memory channels, which not only expands total memory size from 8 to 16G compared with previous generations of MIO, but also increases memory bandwidth. With two mini PCIe expansion slots, MIO-5272 can not only serve applications that require 3G/4G Lite modules and ruggedized mSATA storage, but it can also serve the requirements for WiFi and Bluetooth modules. MIO-5272 enhances security protection and meets the TPM (Trusted Platform Module) 2.0 standard for security protection. TPM 2.0 uses network encryption for connected applications to prevent cyber attacks. MIO-5272 not only facilitates seamless integration and permits high efficiency network use, but also incorporates the MIOe unified connector which can extend additional interfaces, integrating DisplayPort, PCIe x1, LPC, SMBus, USB 2.0/USB 3.0, audio line-out, and power. Advantech offers a complete product selection of MIOe modules and I/O choices to meet their vertical application development needs, all of which uses less development resources, helps retain specialist domain knowhow and speeds time-to-market.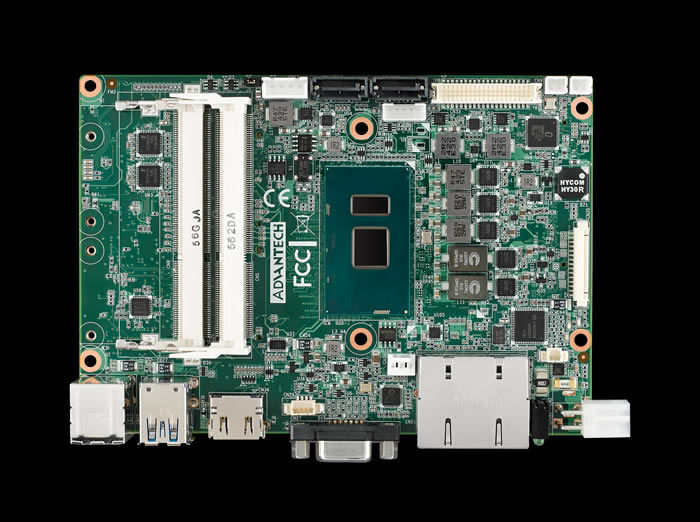 Integrated graphics
MIO-5272 is equipped with the latest generation graphics core (Intel HD Graphics 520) with DXVA (full AVC/VC1/MPEG2 HW Decode), DirectX 11.3, OpenGL 4.4, and OpenCL 2.1. This increases possibilities for application development on multimedia embedded products. MIO-5272 carries various embedded display interfaces including switching between HDMI (up to 4096x2160p) and VGA interface (up to 1920x1200p), 48-bit LVDS, and the next gen embedded interface – eDP. Triple independent displays using 48-bit LVDS, VGA and HDMI are also made available for any creative application.
Fanless compact thermal solution of only 24mm
Fanless design is a very important consideration for dustproof requirements; benefits include longer MTBF, dust-free, noiseless, zero fan maintenance and 24/7 operation. The special design for MIO-5272 thermal solution is a sound choice for medical, automation, military or transportation applications. Its compact 24mm height makes it perfectly suitable for IoT and embedded systems which require both higher reliability and performance.
Designed and verified for reliability
Following the IEC standard, MIO-5272 uses the highest ESD protected (contact: 8kV, non-contact 15kV) driver IC in its serial port design. MIO-5272 also features 100% solid capacitors, including Japanese polymer aluminum electrolytic capacitors for core power with small ESR and better MTBF than electrolytic capacitors. It also uses high Tg PCB (TG-170), which keeps the PCB more stable during high temperature operation. Combined with Advantech's iManager, all this provides double insurance to ensure stable operation.
Advantech iManager and WISE-PaaS/RMM provide manageability and security
MIO-5272 has iManager embedded; this intelligent, self-management, cross platform firmware monitors system status for problems and takes action if anything is abnormal. Additionally, MIO-5272 includes Advantech's remote management software WISE-PaaS/RMM, which builds intelligent management functions into embedded computing applications, ensuring continuous system uptime and reduced maintenance costs. WISE-PaaS/RMM constantly monitors the health of multiple devices and sends out alarm notifications via e-mails and SMS messages if any abnormal situations occur. WISE-PaaS/RMM also provides other powerful utilities such as System Recovery (powered by Acronis), System Protection (powered by McAfee) and Remote KVM for protection against and recovery of possible system faults.
MIO-5272 product features and specifications:
3.5" MI/O-Compact series: 146×102 mm (5.7×4″)
Intel 6th gen Core processors (U-series platform): i7 6600U 2.6GHz/i5 6300U 2.4GHz/i3 6100U 2.3GHz Dual-Core, 4MB/3MB/3MB Intel Smart Cache shared among all cores
multiple display interface: VGA, 48-bit LVDS, HDMI, DP interface from MIOe for flexible implementation (with dual and triple display combination capacity)
supports DDR3L-1600
HD audio: line in, line out, mic in (amplifier can be supported from MIOe interface)
two USB 3.0, and four USB 2.0
two serial-ATA ports, up to 6.0Gb/s (600MB/s)
two COMs: two RS-232/422/485, 8-bit GPIO
full-size mini PCIe with mSATA support and SIM holder, full-size mini PCIe
dual gigabit Ethernet interface: Intel i219 GbE and Intel i210 GbE
extended interface support from unified MIOe expansion slot: DisplayPort, two PCIe x1, LPC, SMBus, three USB 2.0, HD audio line-out, 5VSB/12VSB, Power On/Reset
power type: 12VDC± 10%, power management: ACPI supported
operating temperature: 0-60°C
OS:Win10, Win8.1, Win7, Linux support
Advantech iManager, WISE-PaaS/RMM with McAfee and Acronis
What is MI/O Extension SBC?
Advantech's MI/O (Multiple I/O) Extension Single Board Computer is strategically positioned between Single Board Computers (SBC) and COM. It comes equipped with flexible multiple I/O, which helps deliver easy system integration, efficient scheduling, reduces development resources, and provides system integrators with optimized solutions in a cost-effective way, while still securing domain know-how in key vertical industrial technologies.
Available downloads: