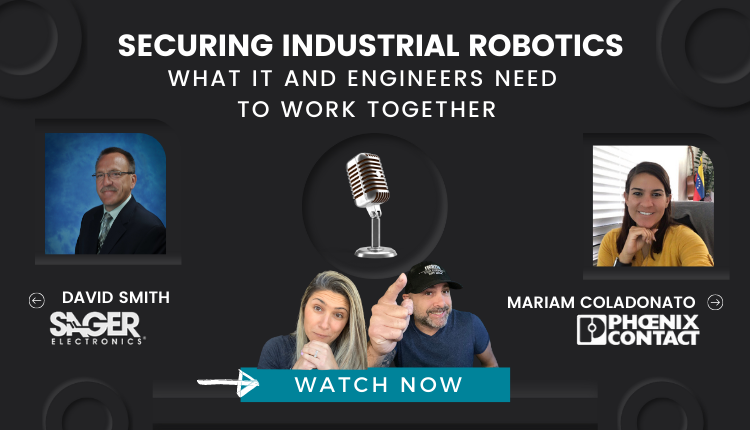 Cybersecurity is way more than a device or a product.
And it's more than just one thing that you're going to do within your entire network. To implement a good security practice, you have to think about your goals. Perhaps you're following a standard or a new application, or you're connecting something – whatever it is—it becomes critical.
As we increasingly connect our devices to the Internet, all that data gets coupled to a central server for you (and others) to use. When you think of this in an industrial setting where robots are conducting operations, that connectedness is great, but it's also frightening since these machines (industrial equipment) are, in essence, keeping the world running. Their connectedness leaves room for vulnerability and hackers to access.
When it comes to Data and Network Security, it's vital to understand that the moment you connect a device to the Internet you create a way for that machine to be attacked. You want to make sure that network is protected, and that only the data that needs to travel out is allowed to travel out.
The vulnerabilities are countless – from PLCs to employees to vendors sending emails – everything plays a role.  There is something that can strengthen your security directly within your organization. This is the enhanced bond and collaboration between you IT and OT team, but often, they experience tension from the "other side" and don't even know where or how to begin a discussion.
In this video, Mariam Coladonato, Sr. Product Marketing Specialist for Cybersecurity, Phoenix Contact, discusses:
Suggestions for collaboration for IT and OT to enhance security.
Various standards and protocols to know.
Examples of hacks to be aware of.
How to think global, act local – right within your company!
David Smith, Director of Supplier Marketing and Product Management, Sager Electronics, joins her to chat about how companies like Sager can spread cybersecurity awareness and provide viable solutions to companies, alongside Phoenix Contact products such as the mGuard family of rugged security devices that includes firewall, routing and optional VPN functionality to secure and strengthen industrial networks.
Learn more about how Phoenix Contact can help secure your industrial robotic operations by visiting >> here.
Our Guests:
David Smith, Director of Supplier Marketing and Product Management, Sager Electronics
Mariam Coladonato, Sr. Product Marketing Specialist for Cybersecurity, Phoenix Contact