While you're lounging on the beach this summer, what you're really going to want is some Wi-Fi – admit it. You're going to say you want to relax and shut down your devices, but we all know you'll have your phone or tablet in your hand.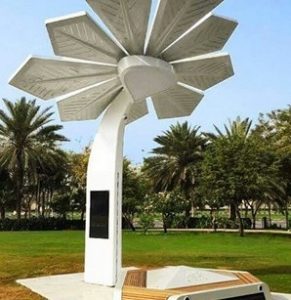 Well then you'll need to head over to Dubai where Smart Palms are providing Internet access for beachgoers.
The 20-foot-tall Internet stations are shaped like Palm trees and are scattered all along the beaches next to  Burj Al Arab Hotel, as well as open public beaches in Al Mamzar, Jumeirah and Umm Suqeim. They can even be found in Dubai's public parks.
Users that enter the vicinity of the Smart Palm will automatically gain Internet access. Oh and did we forget to mention that each palm acts as a charging station, too, so you don't have to worry about your devices dying on the beach with no outlet in sight.
Not only do they provide Internet access, but they also display information about the weather and attractions.
Each Smart Palm can support about 50 users within a 165-foot-radius. Each Smart Palm is fully self-powered equipped with solar cells and lights for the nighttime hours.
The project took only 10 months to complete and is in line with Dubai's Smart City initiative.
Learn more about the Smart Palms, who knows when they'll make their way to a city near you.
Meet the Smart Palm in the video below.