Forget lining-up and heading for the hot, crowded school bus. Now kids are going on field trips right from the classroom- and to places that wouldn't be possible before.
Google has released Expeditions, an educational tool that allows teachers to take their classes on field trips to pretty much anywhere.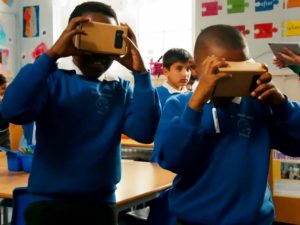 To embark on a trip, teachers will need to download the Expeditions app on their tabet. Then they can send synchronized three-dimensional 360° panoramas to each student's Cardboard viewer, pointing out areas of interest in real-time and even pausing the trip if needed. Expeditions is to be used in conjunction with existing lessons and curriculum to immerse students in what they're learning.
Expeditions will be available in the Fall and will combine three things: software built with input from teachers and students, virtual reality content and off-the-shelf devices.
The trips are collections of virtual reality panoramas — 360° photo spheres, 3D images and video and ambient sounds. They are annotated with details, points of interest, and questions that make them easy to integrate into curriculum already used in schools.
Google has partnered with the American Museum of Natural History, the Planetary Society, David Attenborough with production company Alchemy VR, and many of the museums and other partners, all part of the Google Cultural Institute to create custom educational content.
Expeditions can be used on devices that are already in the classroom, but the program is recommended for use along with Google Cardboard. The pilot kit is a collection of all the hardware needed to go on Expeditions in full virtual reality — a tablet for the guide, VR viewers for each student, a speaker to provide ambient sounds. Since many schools don't have great Internet service (or any at all), Google built Expeditions to work without it. The kit includes a router that allows Expeditions to run over its own local Wi-Fi network.
More than 1,000 students have already used Expeditions in their classes.
Watch a demo video below.