GE Introduces CFL Replacement LED Light Bulb
GE launches Bright Stik™, a CFL replacement LED light bulb available in an LED 3-pack for under $10 every day at The Home Depot.
GE has recently unveiled Bright Stik™LED, a redesigned, entry point 60-watt replacement LED to accelerate consumers' transition from CFL to LED lighting—according to GE industry estimates.
With an LED 3-pack for under $10 every day MSRP, Bright Stik is available at www.homedepot.com right now and in-store at The Home Depot locations nationwide starting in mid-summer.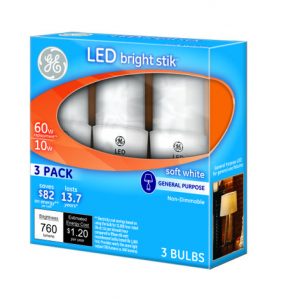 "GE Bright Stik ushers in a new era of illumination as the market begins to make the decided move from CFL to LED technology," says Tom Boyle, Chief Innovation Manager of NA Consumer, GE Lighting. "The biggest barrier for consumers and contractors to transition from CFL to LED is the upfront cost. Now, energy-conscious shoppers who want superior quality of light have a realistic option."
Industry estimates show that of the U.S.'s 4 billion residential light bulb sockets, less than 10 percent are filled with LED lighting; but by 2020, more than 50 percent will be LED. This year alone, the consumer lighting market is anticipated to more than double with LED while CFL will decrease, and GE is driving further LED adoption with the introduction of Bright Stik.
"As we undergo the shift in lighting technology towards LED, we collaborate with vendors to provide our customers with lighting options that save them money and energy. With the GE Bright Stik, we worked closely with GE to develop an affordable LED that offers great quality light and function," says Joey Corona, Light Bulb Merchant for The Home Depot.
Leading the LED Revolution
Bright Stik LED will change the way consumers light their homes. This LED is meant to directly replace the more than 30 percent of sockets with general purpose 60-watt replacement CFL bulbs, commonly found in table and floor lamps and indoor utility sockets in your basement, shed or garage. This LED has:
A slender, sleek design to fit in more sockets and fixtures compared to general purpose CFL bulb counterparts.
A rated life of 15,000 hours, lasting nearly 14 years based on three hours of operation per day.
A five-year limited warranty, so consumers can have peace of mind with this exceptional quality of light.
Two color options—soft white and daylight.
Energy savings—costing only 10 cents per month to operate (based on three hours/day at $.11/kWh).
For more information about this new, revolutionary CFL replacement LED, visitwww.homedepot.com.