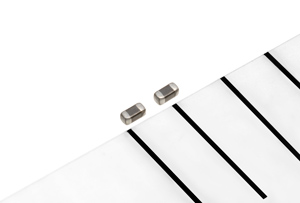 Temperature Sensors: Lineup Of High-Precision IEC 0402 SMD NTC Thermistors Expanded
TDK Corporation has expanded its NTCG04 lineup of IEC 0402 case size (EIA 01005) SMD NTC thermistors with a new type featuring a nominal resistance of 10 kΩ and a narrow tolerance of just ±1 percent. The new component complements the existing 100-kΩ type in 0402. With its miniature dimensions of just 0.4 mm x 0.2 mm x 0.2 mm, the NTCG04 lineup is optimally suited for temperature measurement and compensation of microcontrollers and displays in communication modules, mobile devices, and wearable devices.
The characteristics of the 0402 types are equivalent to those of the 0603 (EIA 0201) case size products, thus supporting the design of even smaller communication modules and increasing the mounting density in mobile devices. Achieving these ratings in a 0402 component was made possible by further optimizing both the source materials and the manufacturing process.
Mass production of the new NTCG04 type is scheduled to begin in July 2015. In future, the lineup of 0402 SMD NTC thermistors will be expanded with further nominal resistance values.
---
Main applications
Camera modules, LED modules, Wi-Fi and other communication modules
Mobile devices such as smartphones, tablets, headphones and microphones
Wearable devices
Main features and benefits
Miniaturized IEC 0402 case size (EIA 01005)
Nominal resistance of 10 kΩ and narrow tolerance of ±1 percent
Key data
Type
Case size
[IEC]
Dimensions
[mm]
Nominal
resistance R25
[kΩ]
Tolerance
[%]
B value
[K]
NTCG043*
0402
(EIA 01005)
0.4 x 0.2 x 0.2
10
±1
3435 (25/85°C)
NTCG044*
100
4250 (25/85°C)