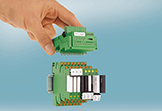 Phoenix Contact Introduces 'Smart' Relay System
Phoenix Contact's new PLC Logic system combines basic programmable logic capability with the company's PLC relays, creating a "smart" relay system. The PLC Logic system houses the logic in a small module that plugs directly into a block of eight PLC Relays. By eliminating the need for a standalone controller, PLC Logic saves space and simplifies maintenance.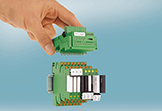 The pluggable logic modules are compatible with a wide range of Phoenix Contact's electromechanical and solid-state relays and are available in various voltage ranges. When connected to a set of eight relays, the complete PLC Logic system measures only 50 mm wide. Thanks to hot-swappable relay capability, individual relays can be replaced without shutting down the entire system.