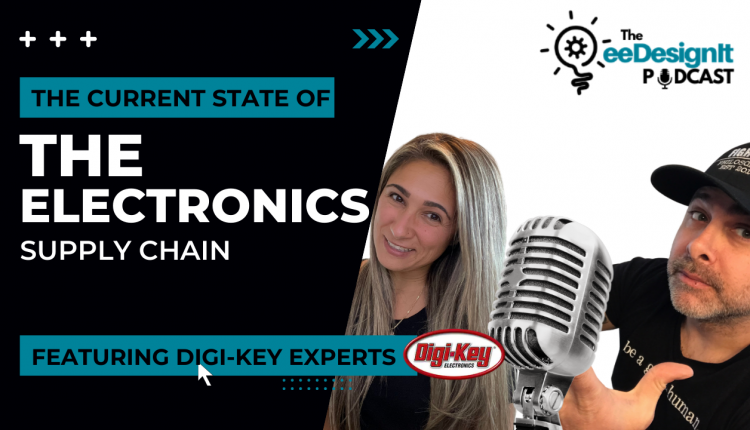 The Current State of the Electronics Supply Chain
With experts from Digi-Key Electronics
It's no surprise that there are electronics shortages we face today. But from those disruptions to the current situation in Ukraine, it almost seems like the industry can't catch a break. And while supply chain professionals have had to face problems over the course of their careers, it seemed to be one problem at a time. For example, an earthquake in Japan affected your capacitors or a diode issue with one manufacturer in Taiwan. Today, however, supply chain pros are faced with an unprecedented, spread-out problem that takes the issues to a whole new level.
Dive into this episode of the EEDI Podcast where we're joined by Digi-Key Experts to discuss these shortages, combating them, and the value of specific tools that can assist and change the way we work.
Our Guests:
Margaret Cunha, Sr Director Supply Chain Solutions
DIGI-KEY ELECTRONICS
Michael Rankins Regional Supply Chain Solutions Director East
DIGI-KEY ELECTRONICS
Nathan Pray Manager, Digital Technology Office – B2B
DIGI-KEY ELECTRONICS
Learn more about Digi-Key:
**
This episode was sponsored by Micrcohip Technology:
Make the move to high-voltage silicon carbide with ease, speed and confidence. Microchip Technology's new 3.3 kV silicon carbide MOSFETs and Schottky Barrier Diodes deliver advanced efficiency and reliability for your high-voltage power systems.
Unveiled last month at APEC 2022, the MOSFETs give you the industry's lowest on-resistance of just 25 milli-ohms [mOhm], and with the Schottky Barrier Diodes, you get the industry's highest current rating of 90 amps. Plus, you can get either of these power devices as a die or packaged.
These high-voltage power devices deliver the rugged reliability and performance you need for electrified transportation, traction power units, auxiliary power units, and solid-state transformers, as well as for industrial motor drives, pulsed power systems and energy infrastructure.
To learn more, visit microchip.com/APEC2022