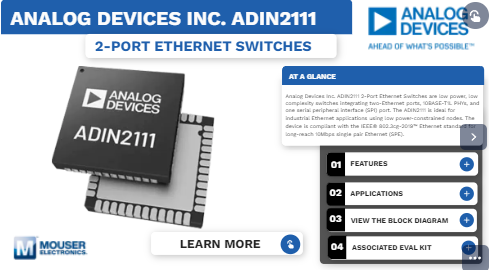 NEW IN STOCK: ADIN2111 2-Port Ethernet Switches
Sponsored by Mouser Electronics
Analog Devices Inc. ADIN2111 2-Port Ethernet Switches are low power, low complexity switches integrating two-Ethernet ports, 10BASE-T1L PHYs, and one serial peripheral interface (SPI) port. The ADIN2111 is ideal for industrial Ethernet applications using low power-constrained nodes. The device is compliant with the IEEE® 802.3cg-2019™ Ethernet standard for long-reach 10Mbps single pair Ethernet (SPE).
The ADI ADIN2111 2-Port Ethernet Switches support various routing configurations between the two Ethernet ports and the SPI host port, delivering a flexible solution for line, daisy-chain, or ring network topologies. Additionally, the device permits a cable reach of up to 1700 meters with an ultra-low power consumption of 77mW.
System-level robustness is improved with an integrated voltage supply monitoring circuit and power-on reset (POR) circuitry. The ADIN2111 can configure the 4-wire SPI for communication with the host to OPEN Alliance SPI or generic SPI. Both modes support optional data protection or cyclic redundancy check (CRC).