This intelligent bed system offers a high-tech way to sleep by adjusting temperature of your sheets
Too cold at night? Way too hot? If you can never find a happy medium or often wake up uncomfortable, BedJet may be able to change that for you.
The intelligent cooling and warming system can actually heat up your sheets in 180 seconds and taps into your body's natural sleep biorhythms to  provide a climate controlled sleep. The company also claims that BedJet can also help you get to sleep faster and stay asleep longer – even eliminate the need for an alarm clock by hacking your body's wake-up triggers.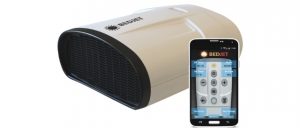 The BedJet system syncs with your smartphone so you can control your bed temperature right from your device.
After working with sleep doctors for years, the BedJet team was able to develop a powerful microprocessor brain for BedJet v2 that accounts for your sex, age and body type to create a custom sleep temperature profile. Each hour, the system makes temperature adjustments based on different factors.
The BedJet's sensors also take into account any unusual changes in ambient bedroom temperature over the night and make necessary adjustments. Users can create manual temperature profiles to set different warming and cooling settings that can be recalled for later use.
So how does some temperature device eliminate the need for an alarm clock?  BedJet v2 lets you program a natural wake up time that goes into effect by subtly altering your body's core temperature similar to sunshine coming through the window. This will activate a pre-programmed circadian reaction in your brain resetting your internal clock to know it's time to start the day, according to BedJet on its Kickstarter page.
The system is small enough to fit at the foot of the bed and works with beds of any size.
The company has launched a Kickstarter campaign for its version two system which has already raised four times the desired funding goal with over a month remaining.
The super early bird special is still active so if you're interested you can order one for $199.