Here's a new spin on the traditional piano. (And it's delicious, too!)
Thanks to Adafruit's recent release of the touch-able add-on, HAT, for Raspberry Pi, this hobbyist was able to construct a fully functional piano from a bowl full of fruit.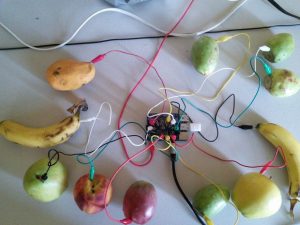 The capacitive touch HAT comes with 12 sensors that can detect when someone touches one of its electrodes. According to Adafruit, "capacitive touch sensing is used for stuff like touch-reactive tablets and phones, as well as control panels for appliances, which is where you may have used it before."
Maker José Federico Ramos Ortega recently posted his Raspberry Fruit Keyboard project on Instructables, where he included a demo video of the keyboard in action.
He hooked up the HAT to the Raspberry Pi using an Alligator clip and hooked up the other end of the HAT to the fruit. Then he set a function for each channel by programming the MIDI effects on his Raspberry Pi.
Each of the fruits can be touched for different sound effects and can be programmed to change their tone.
Watch the keyboard in action or visit Instructables for a tutorial.
Story via Raspberry Pi