This Smart-Parking System Remembers Where You Park, Prevents Tickets
Can't remember where you parked? Can't remember how much time is remaining on your meter? No worries. A tech start-up based in Copenhagen, Denmark has just released its Simply-Park intelligent parking system to help with all that.

The Simply-Park system aims to improve a driver's parking experience by reducing the possibility of expired parking. The Simply-Park solution consists of a Bluetooth 4.0 token and a smartphone app.
All a user needs to do is install the app and place the token anywhere in the car. At that point, the app will be able to remember when you parked (timer function is launched), where you parked, and it will notify you when it's almost time to re-fill the meter.
The idea of Simply-Park came from Dawei, co-founder of Simpli-City after he received several tickets due to expired parking.
"Parking is a natural and necessary thing that all car owners do daily; however, to remember when and where we park and how much time is left before we must move the car to avoid a ticket, is natural but unnecessary. People should be free from parking concerns and other travails, because we have more important things to do," said Dawei.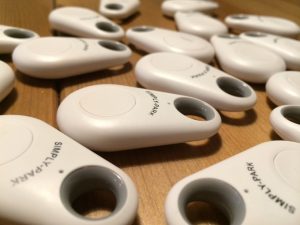 The company launched its Kickstarter campaign in hopes of achieving $10,500 (USD) by July 18 to get things going.
The team aims to finish the app development on iOS in September and the final product should be delivered to backers in early December – just in time for the holidays! Once the funds raised reaches more than 180% of the original target, the Android version will be developed.
Learn more about Simply-Park and the project on Kickstarter or visit the company's homepage.
Watch the video below for more information.