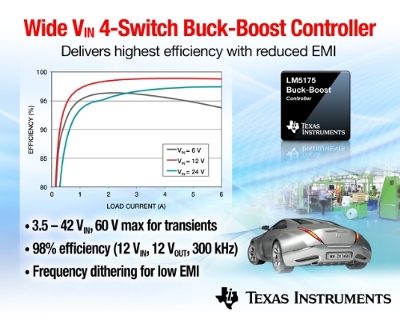 TI's Wide Vin Four-Switch Buck-Boost DC/DC Controller Achieves Highest Power Efficiency With Reduced EMI
Texas Instruments (TI) (NASDAQ: TXN) today introduced a new wide VIN, four-switch buck-boost controller that achieves the highest power efficiency with reduced EMI. The LM5175 manages input voltages from 3.5 V to 42 V and regulates output voltages from 0.8 V to 55 V. This flexibility enables the controller to deliver high-performance designs for industrial and automotive applications such as industrial PCs, USB power delivery, in-vehicle wireless charging, LED lighting, electric vehicles, battery charging and telecom RF power amplifiers. For more information, samples and evaluation modules, see www.ti.com/LM5175.
See the innovative LM5175 demo in TI's booth (No. 1001) at the Applied Power Electronics Conference (APEC), March 16-18, in Charlotte, North Carolina. Follow TI at www.ti.com/apec15.
Highest power conversion performance
TI's LM5175 flexible DC/DC controller addresses a wide variety of buck, boost, and buck-boost applications from output power of a few watts to greater than 100W using a single device. A proprietary switching scheme maximizes efficiency in the buck-boost transition region and uses a single inductor to further reduce board space. The LM5175's robust gate drive (2A at 7.5 V) enables wide VIN MOSFETs to switch faster and more efficiently. Optional hiccup mode short-circuit protection prevents thermal runaway during extended load current faults, reducing thermal stress by up to 30 percent.
Key features and benefits of the LM5175:
Synchronous buck or boost controller meets the needs of a wide range of buck-boost DC/DC converter applications.
42-VIN operation with 60-VIN absolute max withstands wide voltage transients.
Single inductor design reduces board space and simplifies layout.
Optional input or output average current limiting addresses applications requiring a regulated current from the input supply or to the load.
Together with award-winning WEBENCH® online design tools, the LM5175 offers engineers the opportunity to get their industrial and automotive applications to market faster. For more information, check out an overview video and this Power House blog.
About WEBENCH tools from Texas Instruments
WEBENCH Designer and Power Architect are the industry's only online tools that enable end-to-end circuit design, simulation and optimization for footprint, price and efficiency, with the ability to download schematic and printed circuit board (PCB) layout files directly into computer-aided design (CAD) tools. Component libraries include more than 40,000 components from 120 manufacturers, and TI's distribution partners update price and availability hourly. Offered in eight languages, users can compare complete system designs and make supply-chain decisions in minutes. Click here to start a cost-free design in TI's WEBENCH design environment.
Availability and pricing
The LM5175 is priced at US$4.25 in 1,000-unit quantities.
LM5175 design resources shorten development time and speed time to market: