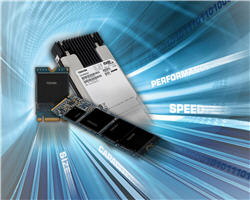 Toshiba Unveils Three NVME Solid State Drive Families
Toshiba's new line of NVMe, PCIe SSDs leverage low latency and power efficiency to deliver ultimate SSD performance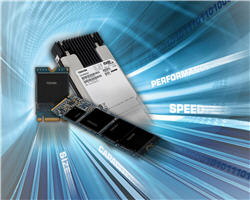 The Storage Products Business Unit of Toshiba America Electronic Components, Inc., a committed technology leader, announces three distinct families of PCIe®1 (Peripheral Component Interconnect Express) solid state drive (SSD) products using NVMe™2 (Non-Volatile Memory Express) protocol, targeted for various applications including high performance notebooks; thin notebooks, 2-in-1/convertible notebooks, all-in-one PCs and tablets; and server and storage applications. All three SSD product lines are optimized for high performance and low latency and utilize the PCIe interface, which provides point-to-point links with the processor, reducing system bottlenecks.
Each NVMe SSD product is engineered with a distinct Toshiba-developed controller platform and Toshiba's own state-of-the-art MLC NAND flash memory, so the technologies are well suited for optimum performance and reliability. Each SSD family is designed for its target segment with capacity, optimized form factor, and security capabilities.
HIGH PERFORMANCE NOTEBOOKS AND PCs: The XG3 family of SSDs is the industry's highest capacity3 (1024GB4) client NVMe SSD available in M.2 Type 2280 form factor and optimally designed for high performance notebooks, 2-in-1 PCs and all-in-one PCs. The XG3 in M.2 Type 2280 form factor supports up to four lanes of PCIe 3.1, which has a maximum interface bandwidth more than six times that of SATA 6Gbits/s5. The XG3 is also the industry's first NVMe SSD available in 2.5-inch SATA express form factor. The XG3 SSD family is equipped with Toshiba's proprietary Quadruple Swing-By Code (QSBC®6) error-correction technology, a highly efficient error correction code (ECC), which helps protect customer data from corruption, improves reliability, and extends the life of Toshiba SSDs. Engineered for power efficiency, the XG3 series also features lower power state modes and is the first Toshiba product, along with the BG1 SSD family, to support the Trusted Computing Group specification, Pyrite (TCG Pyrite).
THIN NOTEBOOKS AND TABLETS: The BG1 SSD family is the world's smallest NVMe SSD7, available in a single 16mm x 20mm package (M.2 Type 1620) or a removable M.2 Type 2230 module with up to 256GB in capacity. Designed for thin notebooks, 2-in-1/convertible notebooks and tablets, the BG1 family enables PC OEMs to produce thin mobile PCs and tablets while offering a better performing alternative over SATA SSDs for mobile PCs. The BG1 SSD family supports TCG Pyrite and features lower power state modes.
SERVERS AND STORAGE APPLIANCES: The PX04P series of enterprise SSDs are designed for servers and storage appliances needing scalable power and performance settings. The PX04P series2.5-inch NVMe SSD has the industry's lowest power consumption8. With only 18 watts active power driving maximum performance, the PX04P's combined power plus performance bring low TCO demanded by today's enterprise data centers. The PX04P series also supports up to four lanes of PCIe 3.0, and is available in either a half-height half-length (HHHL) add-in card or a 2.5-inch form factor with SFF-8639 connector. The PX04P series eSDDs are also equipped with Toshiba's QSBC® error-correction technology.
"Toshiba leverages the performance and latency advantages of PCIe and flash memory to produce industry standard NVMe SSDs that will reach client, hyperscale/datacenter and enterprise markets. Market adoption of NVMe SSDs is going to accelerate, and Toshiba is well positioned to capitalize on this trend," said Don Jeanette, Vice President at TRENDFOCUS.
"With analysts predicting greater NVMe SSD adoption in the next year, at Toshiba, we are ensuring our customers have plenty of choices and that their needs are met by offering a broad portfolio of high performance NVMe SSD solutions, in multiple performance levels and form factors," said Cameron Brett, director of SSD product marketing at Toshiba Storage Products Business Unit.
Samples of Toshiba's newest lines of NVMe, PCIe SSDs will be available in Q4 2015. Toshiba's newest NVMe PCIe SSDs as well as the PX04S Series of enterprise 12Gbit/s SAS SSDs are on display this week at Flash Memory Summit in San Jose, Calif. in booth #407. For more information on Toshiba's portfolio of industry-leading solid state drives, hard drives and hybrid storage solutions, visit www.toshibastorage.com. To connect with Toshiba Storage, visit the corporate blog at http://storage.toshiba.com/corporateblog/ and follow @ToshibaStorage on Twitter.