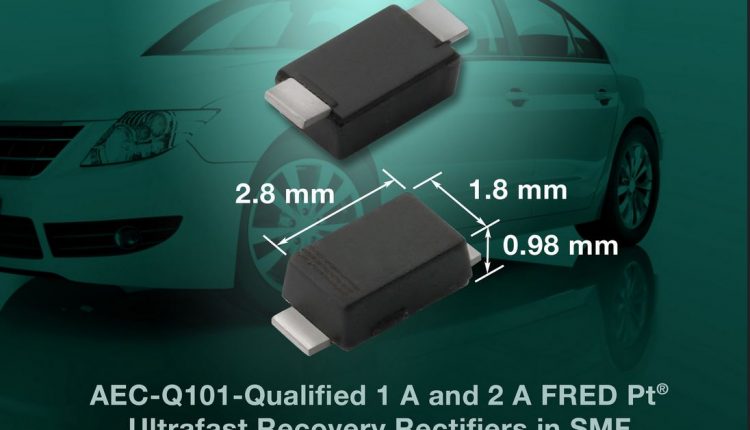 Ultrafast recovery rectifiers from Vishay increase power density
Vishay Intertechnology introduced four new 1 A and 2 A FRED Pt Ultrafast recovery rectifiers in the compact low-profile SMF (DO-219AB) eSMP series package. Combining extremely fast and soft recovery characteristics with low leakage current and low forward voltage drop, the AEC-Q101-qualified devices reduce switching losses and power dissipation in automotive and telecom applications.
The Vishay Semiconductors VS-1EFH01HM3, VS-1EFH01-M3, VS-2EFH01HM3, and VS-2EFH01-M3 offer reverse voltages of 100 V. The VS-1EFH02-M3 and VS-2EFH02-M3 provide reverse voltages of 200 V, joining the previously released VS-1EFH02HM3 and VS-2EFH02HM3. The FRED Pt rectifiers feature reverse recovery times of 16 ns and typical forward voltage drop of 0.74 V at 1 A and 0.75 V at 2 A. With compact footprints and low profiles of < 1 mm, the SMF saves significant PCB space compared with standard SMA, SMB, and SMC packages while increasing power density to lower overall costs.
The FRED Pt rectifiers are optimized for DC/DC converters in automotive engine control units (ECU), anti-lock braking systems (ABS), and LED lighting, in addition to telecom DC/DC bricks. The devices feature a planar structure and platinum doped lifetime control to guarantee high overall performance, ruggedness, and reliability characteristics in these applications. The components offer an operating junction temperature to +175 °C for a more robust design.
The devices released today provide an MSL moisture level of 1 per J-STD-020, LF maximum peak of +260 °C, meet the JESD 201 class 2 whisker test, and are RoHS-compliant and halogen-free. The rectifiers are ideal for automated placement and allow for automated optical inspection (AOI) in automotive systems.