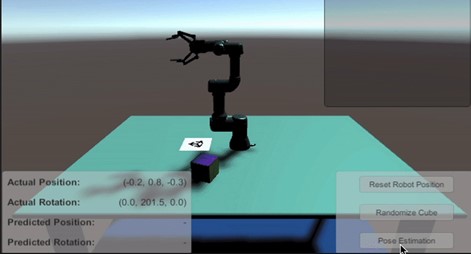 Unity Unlocks Robots in Industry
Unity released its Object Pose Estimation demonstration, which combines the power of computer vision and simulation technologies illustrating how their AI and Machine Learning capabilities are having a real-world impact on the use of robotics in industrial settings.
Unity tools are helping roboticists to safely, cost-effectively, and quickly explore, test, develop, and deploy solutions in industrial applications.
Simulation technology is particularly effective and advantageous to test applications in situations that are dangerous, expensive, or rare. Validating in simulation before robot deployment shortens iteration time. Unity's built-in physics engine and the Unity Editor are used to create endless permutations of virtual environments, enabling objects to be controlled by forces acting on them in the real world.
The demonstration also shows how Unity Computer Vision tools and the recently released Perception Package are used to create synthetic, labeled training data to train a simple deep learning model to predict a cube's position. The demo features a tutorial on recreating this project, which can be extended by applying tailored randomizers to create more complex scenes.
To learn more about Unity's work enabling the future of robotics, please visit Unity Robotics page.