Canon unveiled its PowerShot V10, a lightweight and easy-to-use vlogging camera that eliminates the need to carry a lot of equipment. Weighing approximately 211g, the pocket-size PowerShot V10 offers an all-in-one solution with high-quality microphones and a built-in stand. It features shake-free 4K UHD movie recording and professional-looking background blur.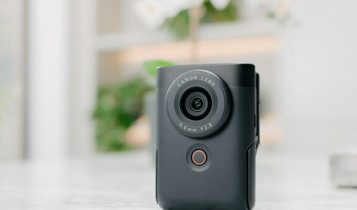 The body is an entirely new design for Canon, one that comfortably blends in when recording in crowded places. Its centered record button is tailor-made for quick and agile one-handed camera control. A large 1-inch CMOS sensor delivers stunning 4K video quality and stills shooting capabilities. Creators can quickly access 14 included color filter effects and Smooth Skin mode.
The PowerShot V10 can shoot in both orientations and record up to an hour of continuous video. Its auto-level feature keeps video straight, avoiding slanted clips and reducing editing time. It also features two large stereo microphones for narration and a third audio noise-reduction microphone. You can purchase an optional windshield to improve sound quality in outdoor conditions. The 2.0-inch LCD touchscreen, which you can flip to the front, is ideal for self-vlogging or recording others.
Managing your video workflow is simple, with built-in integration for temporary cloud storage. For those who are constantly out and about, you can recharge on the go via USB-C.