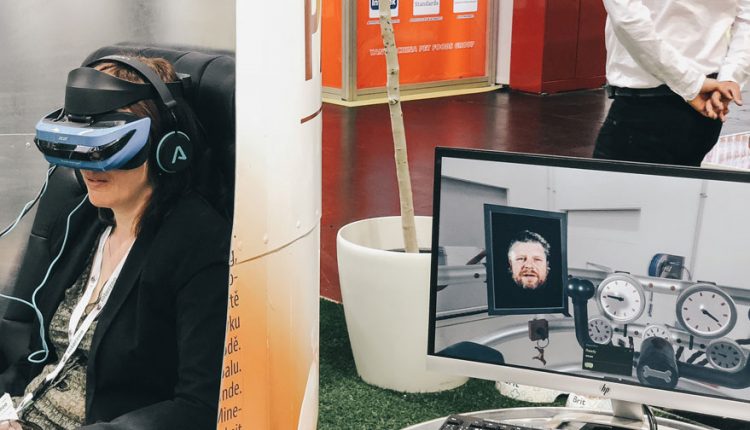 BRAINZ VR
Immersive technologies are being considered as one of the most phenomenons of the last decade. They can easily immerse their users into completely different places which can be perceived more complexly and create a long-lasting experience.
Thanks to that, they are becoming an effective tool for presentations at exhibitions, festivals and trade fairs.
This is why ProMinent, manufacturer of water conditioning components, and Vafo Praha (with its premium pet food brand Brit) decided to create VR experiences in cooperation with Prague creative studio BRAINZ VR to present their projects at world trade fairs in Germany.
Just imagine that you, as one of the visitors, are being seated into a huge can behind a control lever which simulates a cockpit of a futuristic helicopter. Sounds crazy?
Welcome to the VR installation of premium dog food brand, Brit!
After putting the headset on, users are just about to take off on a virtual tour of Brit's brand new factory through the whole manufacturing process step by step – from meat processing to final packaging.
Every step is carefully explained by experts who appear on the side screens of the control board during the flight to make everything clear and understandable.
Improving the impression of the whole experience is ensured by handing the real Brit can to the user as a gift in the end.
The Brit VR installation was first introduced at InterZoo in Nuremberg, the world's biggest trade fair of pet supply.
"Virtual tour of our new factory turned out to be a great move. In 4 days, 250 existing or potential customers 'flew through' our new factory. In addition, the whole shooting of 360 video has become an entertaining happening for colleagues from production.
"The can in which the participant is sitting will definitely become an adaptation for B2C marketing as a part of our presentations in the Czech Republic," said Martin Šámal, Marketing Director of Vafo Praha.
VR experience projects
ProMinent introduced in their VR experience projects from Russia and Saudi Arabia.
Both presents devices from power plants and refineries which can be seen from several angles and distances thanks to the teleportation.
Users can also switch to X-ray vision to examine the structure and details of every part.
Their virtual guide through the whole experience is a small but cute robot which informs them not only about essential information of the projects, their pitfalls, features and materials, but also how to properly explore ProMinent virtual world at all.
"It was important for me that the robot could slightly move and did not act unnecessarily clumsily. I just tried to make him act more like a human being than a machine," added Petr Kollarčík, 3D Motion Designer, BRAINZ VR.
This experience was first presented at Frankfurt's Achema, world forum for the process industries, with more than 160 thousand visitors.
"It is a pleasure to see how we are teaching clients to perceive virtual reality as a medium that is not just about visualization of CAD data but also about creating unique experiences for their existing or potential clients.
"As a creative studio, we have the opportunity to implement even more daring ideas. That was the case with the last two physical installations for Brit and ProMinent," added Robin Pultera, CEO of BRAINZ VR.