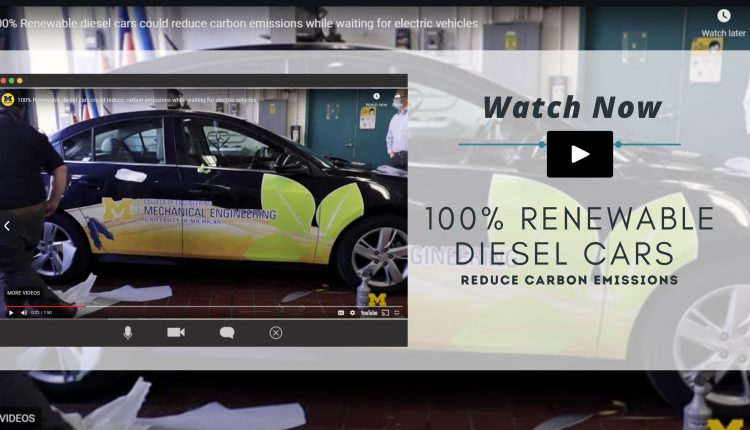 WATCH NOW: 100% Renewable Diesel Cars Reduce Carbon Emissions
Researchers estimate that there was an 80% carbon footprint reduction when using renewable hydrocarbon biofuels instead of traditional petroleum-sourced fuels
Working with General Motors, University of Michigan mechanical engineers put together a renewable diesel vehicle demonstration. Using 100% renewable hydrocarbon biofuels, engineers estimate that there was an 80% reduction in the carbon footprint over the use of traditional, petroleum-sourced fuels. Both a Chevy Cruze diesel and GMC Sierra Pickup diesel were used in this demonstration.
While the move from petroleum fuels to biofuels is not as environmentally drastic as a complete transition from diesel to electric motor power, switching to vehicles run with biofuels is a more immediate solution. Even though it is estimated that half of new cars sold will be electric in the year 2030, it will still take many more years after to make a significant dent in greenhouse gas emissions. The transition from gasoline to biofuels can occur while electric vehicle technology is further developed and institutionalized.
The renewable diesel fuel used in the demonstration consists of bio-derived hydrocarbons from plant oils and animal fats. Because this carbon comes from within the biogenic carbon cycle, it would add much less carbon to the atmosphere than traditional diesel fuel.
This research was led by André Boehman, a Professor at University of Michigan Mechanical Engineering and Director of the W.E. Lay Automotive Laboratory.