WATCH NOW: Accelerating Edge Machine Learning Deployment with ABI Research
Edge ML is one of the most promising innovations of the last few years enabling AI at the edge across a wide variety of industries.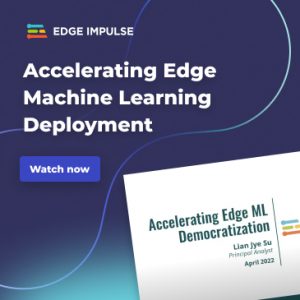 It addresses the need for intelligence in IoT devices, allowing end users to capture insights from audio, video, and sensor data. With the market estimated to exceed an annual shipment of 2 billion devices by the end of 2022, the market opportunities are massive, but there is work to be done. Most enterprises are still unfamiliar with the technology and face various challenges to deploy edge ML. They are also looking for the right tools and services to support their edge ML initiatives.
Join this webinar for a chance to hear from Lian Jye Su, Principal Analyst at ABI Research, one of the leading experts in this field.
What You'll Learn:
market opportunities
key use cases
existing gaps
appropriate tools and services
recommendations and best practices to accelerate enterprise adoption of edge ML
Download the replay.