Preventing Heat Exhaustion with the Help of Machine Learning
Can machine learning keep first responders safe when they're most at risk?
Cloud-based systems that monitor vital signs can keep first responders and industrial workers from getting injured or even dying on the job. But what happens when people "go dark," and can't be reached by the cloud?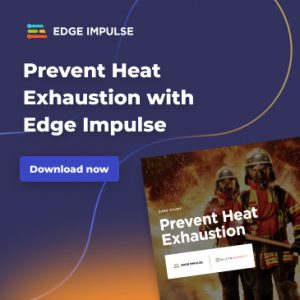 SlateSafety wondered if their award-winning BioTrac Band could deliver real-time alerts even without connectivity. In just 10 days, working with the vast amount of biometric data generated from the field, SlateSafety and the Edge Impulse team were able to zero in on key parameters and create an accurate, compact algorithm for predicting heat exhaustion. The new algorithm, which runs directly on existing hardware, can give the wearer real-time feedback on the risk of heat exhaustion, and enhances existing products by making safety at the edge a working reality
Find out how this wearable (The BioTrac Band) finds signs of stress when people are doing dangerous work, in extreme environments, and at risk of overexertion
Find Out:
How this new ML algorithm took only 10 days to develop,
The smart sensors that added predictive capabilities to their algorithms.
How they gave existing devices new capabilities.