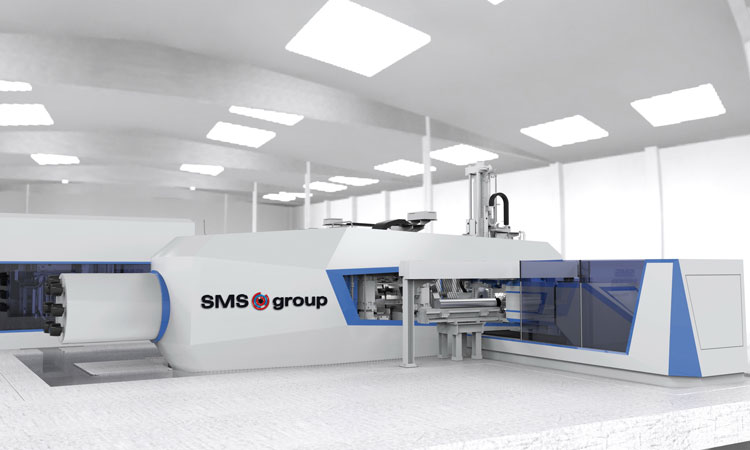 Whitehall Industries once again backs press technology from SMS group
UACJ Automotive Whitehall Industries, based in Ludington, Michigan, USA, has placed an order with SMS group to supply a HybrEx25 extrusion press. The 25 MN (2750 UST) press will be the third SMS press for Whitehall and the first machine of this series for the North American aluminum market.
It will considerably reduce energy consumption and boost productivity by up to 20%. Thus, the HybrEx®25 meets all the requirements of an Ecoplants solution.
"The new HybrEx press from SMS group is very resource-efficient. That makes it sustainable, cost-saving and eco-friendly – and that is what convinced us," says Mike Wegener, Director of Manufacturing Engineering at Whitehall.
The HybrEx25 belongs to a new generation of extrusion presses equipped with an innovative drive concept. The new hybrid drive technology reduces energy consumption by up to 55% compared to conventional extrusion presses. Productivity can be increased by up to 20%. Instead of conventional hydraulic drives for the axes of motion, the HybrEx features fast-acting electric servo drives for all systems where speed is critical. In such applications, electric servo motors are more energy-efficient, and they can be positioned more quickly and precisely.
Whitehall Industries produces complex precision profiles that are further processed into ready-to-install aluminum components for the automotive industry. In addition to structural components, these include sunroof guides, convertible top components and housings for hydraulic parts. The profiles are often challenging to manufacture, especially as they have to be made to very tight tolerances. However, the HybrEx with its deflection-resistant, three-part triple-layer counter beam and the patented precision guide for the container and the moving crosshead provides the perfect conditions to achieve just that.
Commissioning of the new machine at Whitehall in Ludington is scheduled to take place by the end of this year.