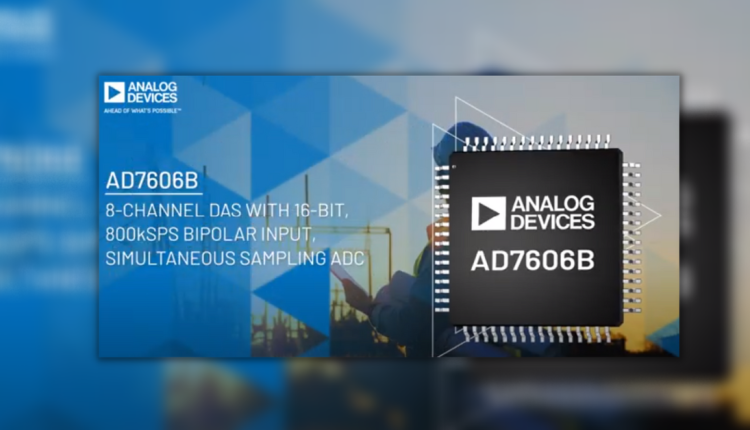 AD7606B: Revolutionizing Analog-to-Digital Conversion with Advanced Features for Modern Engineering Challenges
Sponsored by Analog Devices
The AD7606B is an advanced component in the realm of analog-to-digital data acquisition systems, presenting a multitude of features that position it as a vital tool for engineers. Below, we dissect the unique characteristics and potential applications of the AD7606B >> Learn more about the AD7606B.
Specifications and Features:
Architecture: The AD7606B boasts a 16-bit resolution, allowing for precise analog-to-digital conversions.
Channel Design: Eight simultaneous sampling channels enhance its multi-tasking capabilities. Each channel houses an analog input clamp protection, a programmable gain amplifier (PGA), a low-pass filter, and a 16-bit successive approximation register (SAR) ADC.
Built-In Components: Incorporated within are a flexible digital filter, a low drift 2.5 V precision reference, and a reference buffer, streamlining the ADC operations.
Operational Dynamics: Operating from a single 5 V supply, the AD7606B is adept at managing ±10 V, ±5 V, and ±2.5 V true bipolar input ranges. This capacity is preserved even at impressive throughput rates of 800 kSPS across all channels.
Protection and Compatibility: With a robust input clamp protection that can withstand up to ±21 V and a 5 MΩ analog input impedance, the AD7606B guarantees safety and compatibility. In fact, its high input impedance can yield less than 20 LSB bipolar zero code when inputs are detached and grounded via a 10 kΩ resistor.
Advanced Functionalities:
In its software mode, the AD7606B unlocks a range of functionalities:
The inclusion of an additional ±2.5 V analog input range. Channel-specific selection of analog input ranges. Expanded oversampling options, scaling up to OS × 256.
Per channel calibration for system gain, offset, and phase.
Diagnostic tools such as an analog input open circuit detector, a diagnostic multiplexer, and monitoring features, ensuring smooth operations and troubleshooting.
Applications:
The flexibility and advanced features of the AD7606B make it suitable for a wide range of applications:
Power line monitoring: Ensure stability and efficiency in power distribution systems.
Protective relays: Enhance safety in electrical systems.
Multiphase motor control: Optimize and manage various motor operations. Instrumentation and control systems: Integrate with diverse devices for accurate readings and controls.
Data acquisition systems: Collect, analyze, and manage data seamlessly.
The AD7606B emerges as a comprehensive solution for engineers in need of a reliable and advanced analog-to-digital data acquisition system. Its wide range of features and applications make it a worthy addition to any engineering project.