Atmel Showcases Complete System Solution for Wearables at Computex 2015
Atmel® Corporation, a leader in microcontroller (MCU) and touch technology solutions, today announced its first-ever wearable solution integrating Atmel's broad portfolio. Atmel designed a 7cm x 9cm demonstrator around a smart badge concept, combining low-power embedded processing, wireless, touch and sensor technologies to create a turnkey system. By leveraging industry-leading Atmel technology, this complete system solution makes it simple to demonstrate virtually any type of wearable application.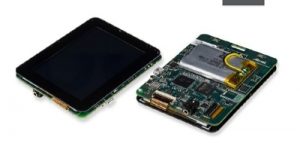 This demonstrator brings together hardware and software technologies, from Atmel and partners, into a highly optimized and comprehensive out-of-the-box solution that addresses the complex requirements for the wearable market while bringing their designs quickly to market. Users can wear it around their neck and display different applications (compass, watch, spirit level, slide show, battery gauge) specialized for the Andriod operating system (OS) and made by Adeneo Embedded, an Atmel partner. Based on Atmel's embedded connectivity, the demonstrator can interact with other Android mobile phones. The badge uses a 3.5-inch display from Precision Design Associates (PDA Inc.) and embeds MEMS and sensor technology from Bosch Sensortec as well as memory multi-chip package from Micron combining 4Gb of LPDDR2 + 4GB of  eMMC in a single package demonstrator running on the Android KitKat OS. Atmel is also developing a software framework that will allow various software partners to plug in their software and seamlessly work together.
According to the most recent forecast data from the International Data Corporation (IDC) Worldwide Quarterly Wearable Device Tracker, vendors will ship a total of 45.7 million units in 2015, up a strong 133.4 percent from the 19.6 million units shipped in 2014. By 2019, total shipment volumes are forecasted to reach 126.1 million units, resulting in a five-year compound annual growth rate (CAGR) of 45.1 percent.
With the anticipated growth of the wearable market, designers are looking for solutions that combine all the necessary and complex technologies into a simple turnkey solution, enabling designers to focus on differentiating their products. The Smart Badge is the first demonstrator to bring together the company's ultra-low power Atmel | SMART SAMA5D31 MPU, the Atmel | SMART SAM G54 sensor hub solution, Atmel's maXTouch mXT112S controller and Atmel SmartConnect WILC3000 Wi-Fi/Bluetooth integrated solution.
"Atmel possesses the most complete, lowest power technology portfolio for wearable devices worldwide," said Vince Murdica, Responsible for the Sensor-centric Business Unit, Atmel Corporation. "Atmel's Smart Badge is the first of many wearable reference designs and platforms to come as we want to ensure when customers think wearables, they think Atmel. We are very focused and excited to help accelerate the growth of the wearable market with turnkey, low power, complete hardware and software solutions."
More Information
Atmel Wearable Solutions: http://www.atmel.com/applications/wearables/smart-badge/default.aspx