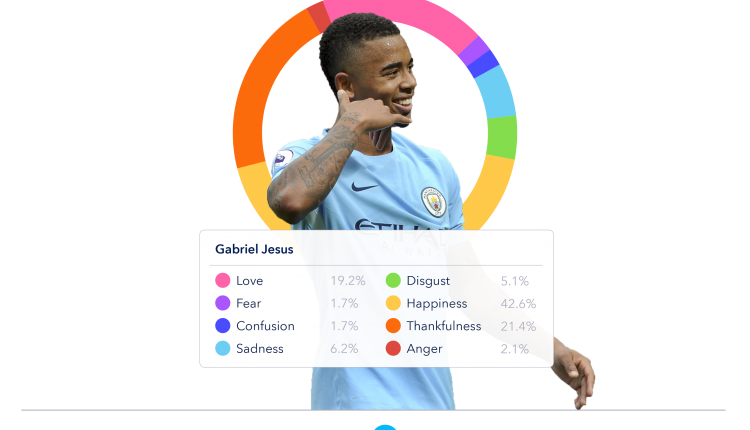 Blurrt NLP: The difference between vanity and sentiment metrics
At the Tech Startup Pitch event hosted by Gavin Fletcher, London Tech startup aficionado, consultant and contributing writer to Startups Magazine, at WeWork Waterhouse square in London on November 23, 2017, eeDesignIt met with the CEO of Blurrt, Joe Bonney.
Brands want to know and understand their audiences beyond simply posts, likes and shares, "A thumbs up only tells you so much," said Bonney.
Now brands want to understand the sentiment around them: Are they spoken about more than their competitors? Are they engaging their target audience demographic?
Blurrt is a social media analytics platform that can identify and analyse conversation, hashtags and emojis in real time from social networks and aggregate the sentiment and emotion around a brand. And it's not just the posts, Blurrt also pulls in information about the author, using biographies and their follower information to get detailed audience demographic data for the brand in question. Blurrt are currently working with clients such as BT Sport and the Premier League, using their ability to capture and understand social media to aggregate audience views and provide engaging on-screen content, one such example being a player rating system called 'The Blurrt Score'.
The Blurrt Score
The Blurrt Score looks at the volume of conversation across social media around
each individual player and takes into account how much of that is positive, negative and neutral as well as looking at the strength of sentiment that's being expressed,' Bonney explained.
The Blurrt Score, alongside other content pieces such as 'Who's Trending on Social' and 'The Manager: Fan Reactions' are being used on-screen to provide quick and easyto-digest content for viewers of shows such as Premier League Production's, 'Fanzone' programme, airing in over 100 countries overseas.
The data Blurrt work with is not black and white, it is not just vanity metrics such as likes and retweets – Blurrt analyse and understand the language, context and tone-of-voice in each individual case using its own custombuilt Natural Language Processing (NLP) system, a combination of machine learning and continued human analysis, adapting as language and emoji use change over time.
Blurrt in action
Blurrt recently built some bespoke live engagement visuals used in Davos at the World Economic Forum (WEF) 2018 Annual Meeting, showcasing engagement, opinions and reactions to the event in real time from around the world. Blurrt were also invited along to the event, using their tool to curate social posts for WEF to be shown on screens around the venue. Blurrt has been privately funded, but also secured £500k investment through the Seedrs crowdfunding platform in December 2015, including £200k from Finance Wales and are currently looking for investment to help them scale.
Summed up
"It's like going to university, you learn a lot, it's messy you make mistakes you shouldn't make, but it shapes you as a person," summarized Bonney about his experience as a startup so far.
Top tips for tech startups
Bounce your ideas off of people you trust
Do your research and make sure it hasn't come before and failed
When are you no longer a startup?
"We have not achieved enough to not be a startup, we are still changing the product. Once you have something you can do repeatedly and sell, perhaps that's when. It's hard to answer," said Bonney.