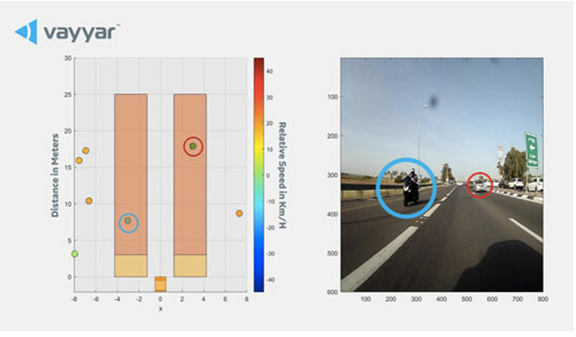 Do you ride? 4D-imaging sensors target robot, motorcycle and scooter safety
Piaggio Fast Forward rolled out a new technology for consumer and business robots and motorcycles and scooters. The technology includes 4D imaging radar provided by Vayyar expected to debut in 2022, while PFF robots will launch late this year.
The company concentrated its efforts solely on smart following technology and smart behavior implementation in robots and machines, but recently created a custom radar sensor module for use first in Piaggio Group motorcycles.
The PFF modules provide safety by delivering robust monitoring in all environmental and lighting conditions. The company awarded a supply contract for Radar-on-Chip to Vayyar Imaging, for the industry's first ever 4D imaging radar-based motorcycle safety platform. The complete sensor package is developed, built and supplied by PFF for mass production in Piaggio Group motorcycles' Advanced Rider Assistance Systems (ARAS).
ARAS technology meets the rigorous technological requirements of traditional driver assist functions, for such challenges as size constraints and seamless vehicle maneuverability at high-tilt angles. The PFF modules use Vayyar's mmWave 4D imaging Radar-on-Chip (RoC) sensor, enabling multiple ARAS functions such as Blind Spot Detection (BSD), Lane Change Assist (LCA) and Forward Collision Warning (FCW) with a single sensor supporting a range of over 100m, and an ultra-wide field-of-view.
Original Release: PR Newswire