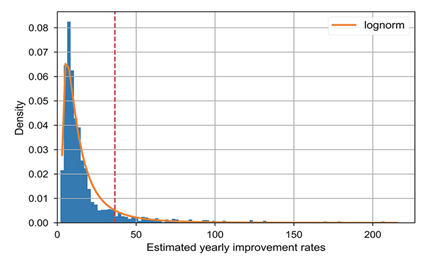 A comprehensive study of technological change
In an environment of rapid technological change, predicting which technologies are fast improving or overhyped can mean the difference between success and failure.  MIT researchers used U.S. patents as a dataset when predicting technology performance improvement. The study described 97 percent of the U.S. patent system as a set of 1,757 discrete technology domains, and quantitatively assessed each domain for its improvement potential.
Previously, MIT provided empirical measures for 30 technological domains, but the patent sets identified for those technologies cover less than 15 percent of the patents in the U.S. patent system, so are not as representative as the current study. This time, researchers developed a method using a probability-based algorithm, machine learning, natural language processing, and patent network analytics.
Researchers built on previous research conducted by co-author Chris Magee, a professor of the practice of engineering systems within the Institute for Data, Systems, and Society (IDSS). The research found that by looking for patent overlap between the U.S. and international patent-classification systems, they could quickly identify patents that best represent a technology. They ultimately created a correspondence of all patents within the U.S. patent system to a set of 1,757 technology domains.
According to Magee, the domains that show improvement rates greater than the predicted rate for integrated chips — 42 percent, from Moore's law — are predominantly based upon software and algorithms.
Moving forward, the researchers created a new MIT spinoff, TechNext Inc. to further refine this technology and use it to help leaders make better decisions, from budgets to investment priorities to technology policy.
Original Source: MIT