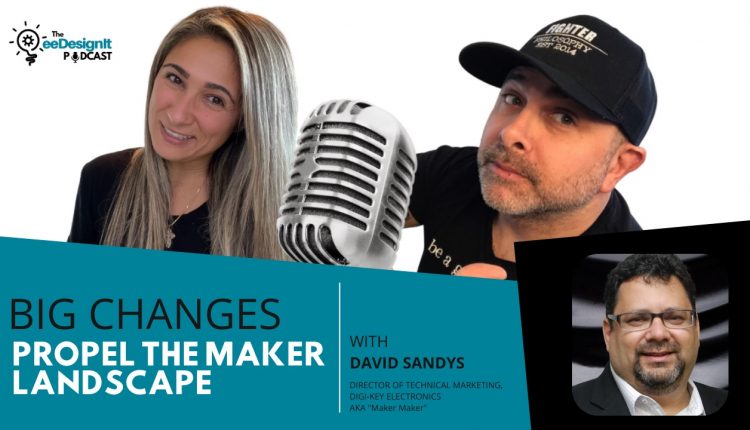 On this episode of the eeDesignIt Podcast, Bryan and Nicolette get to have some fun with Digi-Key's David Sandys to talk about the magic, art, and opportunity that comes along with MAKING. We'll explore David's passion for making that stems as far back as 1977 when he got his first computer.
He'll lead down the journey and evolution of his passion and incorporate some of the great innovations that have modified the maker landscape over the past couple of decades. As a bonus, we get quite the show and tell! Learn more about the products David loves to incorporate into his electronics projects and get some inspiration. Oh, and there's a robot… everyone loves robots!
What you'll learn: – Parallels and shared attributes between engineers and makers, but some differences, too! – More about the attraction to "making" – Key areas are we seeing the most momentum in, in terms of the maker movement – Products and tools there that are changing the landscape for makers—igniting even more innovation – Bringing ideas and DIY to market
Here's a list of products David mentioned on this episode for easy reference:
About David Sandys:
David Sandys' official title is director of technical marketing at Digi-Key Electronics, but informally he labels himself as its "Maker Maker." David and his team spend a lot of time on differentiated marketing activities such as Digi-Key's Maker and Startup initiatives, academic marketing, tools/design content and targeting future technologies and markets such as machine learning and RISC-V. David has been with Digi-Key since 2013. During his career David has held numerous positions including software development and design with Hewlett Packard, MCU product market engineering with Advanced Micro Devices and embedded and global marketing with Arrow Electronics. David holds a Bachelor of Science degree from Arizona State University and an MBA from the University of Southern California.