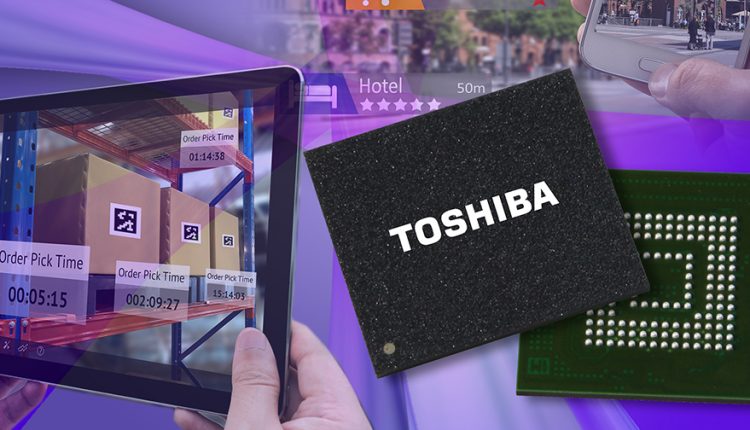 Toshiba Memory Europe
Embedded flash memory enables faster performance for smartphones
Toshiba has started sampling the 128GB version of the Universal Flash Storage (UFS) Ver. 3.0 embedded flash memory devices. The new line-up utilizes the company's 96-layer BiCS FLASH 3D flash memory and is available in three capacities: 128GB, 256GB and 512GB. With high speed read/write performance and low power consumption, the new devices are suitable for applications such as mobile devices, smartphones, tablets, and augmented/virtual reality systems.
Consumers continue to demand increasingly higher performance and an improved user experience from their devices, and the UFS standard is constantly being refined in order to support this evolution.
Due to its serial interface, UFS supports full duplexing, which enables both concurrent reading and writing between the host processor and UFS device.
With the introduction of UFS 3.0, JEDEC has enhanced previous versions of the UFS standard to help product designers enable significant improvements in mobile devices and related applications.
The new devices integrate 96-layer BiCS FLASH 3D flash memory and a controller in a JEDEC-standard 11.5x13mm package. The controller performs error correction, wear leveling, logical-to-physical address translation, and bad-block management for simplified system development.
All three devices are compliant with JEDEC UFS Ver. 3.0, including HS-GEAR4, which has a theoretical interface speed of up to 11.6 Gigabits per second per lane (x2 lanes = 23.2Gbps) while also supporting features that suppress increases in power consumption. Sequential read and write performance of the 512GB device are improved by approximately 70 and 80%, respectively, over previous generation 256GB Toshiba devices.
Toshiba was the first company to introduce UFS devices and has been shipping since 2013. The introduction of these UFS Ver. 3.0 devices maintains Toshiba's leadership position in storage for next generation mobile devices which they will continue through driving further advances.
Samples of the new devices will be on show at Toshiba's booth (Hall 3A – 424) at the Embedded World 2019 Exhibition and Conference (26th-28th February – Nuremberg, Germany).