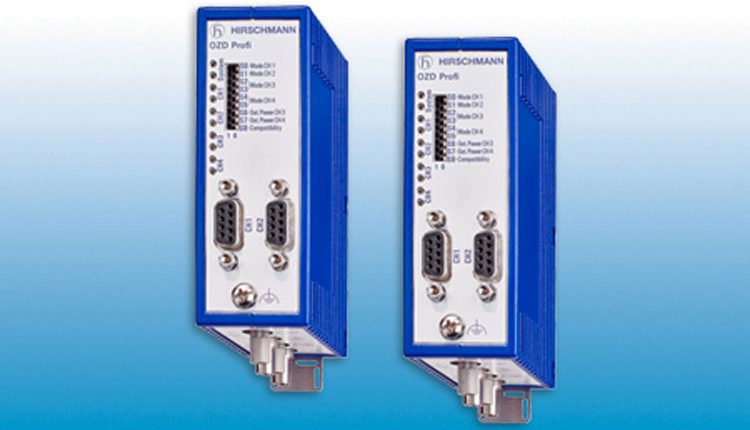 Fiber Optic Repeater Enables Faster PROFIBUS Communications
Belden, a leader in signal transmission solutions for mission-critical applications, has released a new version of its PROFIBUS fiber optic repeater. The OZD Profi 12M G22 allows PROFIBUS networks to communicate over longer distances through fast and reliable fiber optic signals, while also guaranteeing signal reliability through integrated redundancy technology.
"Control networks need real-time communications that are extremely fast and highly reliable. This combination can be achieved through devices, such as our OZD Profi 12M G22, that place a priority on data integrity and high speeds," said Rolf-Dieter Sommer, Product Manager at Belden. "With data transfer rates up to 12Mbps, our new repeater is among the fastest in the world. And, if a fault were to occur, its built-in ring redundancy will automatically switch over to another ring segment for maximum reliability."
This new device builds on the proven family of Hirschmann PROFIBUS repeaters with higher signal conversion capacity.
Specifications:
Extended operating distances for PROFIBUS communications thanks to two electrical and two optical ports
Failsafe communications with built-in ring redundancy, without any measureable interruption (i.e., within 0 milliseconds)
The highest data integrity, despite harsh environments, sheltered by a robust metal housing with protective coating on the internal components
High-speed data transmissions, up to 12Mbps – among the fastest in the industry
Support of singlemode, multimode and plastic fiber
This PROFIBUS fiber optic repeater is ideal for real-time control networks that extend across long distances. It is useful in energy applications, (such as oil and gas production or pipelines), and in the transportation industry (highway traffic control systems). Other uses include water and wastewater systems and manufacturing systems that require large PROFIBUS communication networks that are reliable and safe.