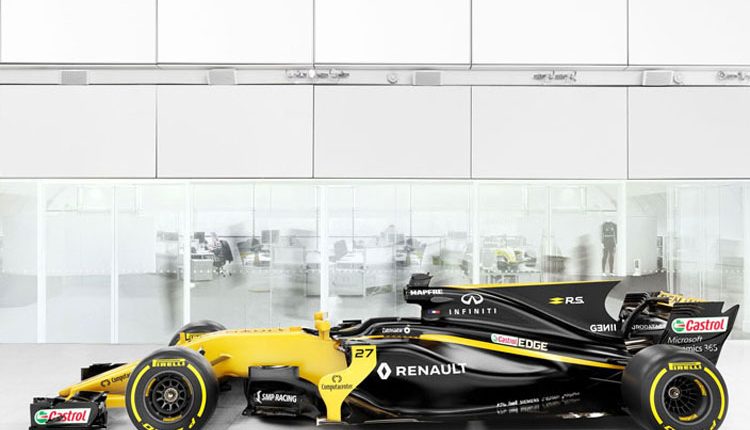 Formula 1: Engineer vs. Driver
The first half of 2017 has seen multiple sporting regulation changes; from the proposed rule additions in golf by the R&A and USGA, to the first major use of video referrals in France's friendly football match against Spain at the Stade de France; but arguably the changes to spark the most debate among engineers are the 2017 regulations for Formula 1.
Formula 1 stated: "2017 features one of the biggest regulation shake-ups since the introduction of hybrid turbo power units in 2014. This time bodywork and tires are the center of attention, with both getting wider in order to boost downforce and grip, making the cars both faster and physically harder to drive. In fact, a reduction in lap time of around 3 to 5 seconds is expected…"
Tires
Tires are 25% wider than in 2016, with rear width up from 325 to 405mm, and front width raised from 245 to 305mm
Tire diameter has increased slightly, but wheel rim size remains 13″
Bodywork
Front wing span increased from 1650 to 1800mm
Overall width of car increased from 1800 to 2000mm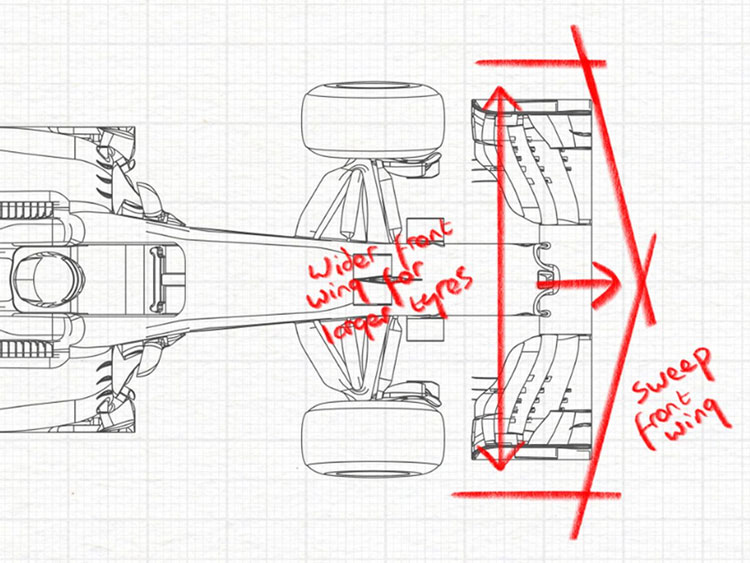 Rear wing and rear diffuser
Height of the rear wing reduced to a maximum of 800 from 950mm
Increase in diffuser height from 125 to 175mm
Increase in diffuser width from 1000 to 1050mm
Diffuser is now longer, extending ahead of the rear wheel axle line
Sidepods
Bodywork is now wider, with maximum width up from 1400 to 1600mm
Weight
Maximum weight is increased from 702 to 722kg, plus tires
Power Units
Power unit price for customer teams reduced by €1m per season
Homologation procedure now includes an 'obligation to supply' that is activated in the event of a team facing an absence of supply
Previous 'token' system for in-season engine development has been removed
Constraints on power unit part weights, dimensions and materials, and on boost pressure, are being introduced in 2017 and 2018
If a driver introduces more than one of a power unit element that is subject to a grid penalty, only the last element fitted may be used at subsequent events without further penalty
Other changes
If a safety car is deemed to be required for the beginning of a race due to wet weather, unlike previously a normal standing start will occur once the track is deemed safe to race. The process will see the safety car return to the pit lane and the cars assemble on the grid for the start.
Drivers must continue to use essentially the same helmet design at all races for easy recognition of the driver in the car. However, each driver is now allowed to use a special livery at one event of his choosing, such as a home race for example. Drivers will also be allowed to change their helmet liveries if changing teams during the season.
In addition to all of these changes, there have also been changes to the rules on clutch engagement.
The FIA (Federation Internationale de l'Automobile) have transferred control from the engineer to the driver. Formula 1 stated: "Last year they looked at radio communications and clutch bite points, as well as making drivers use only a single clutch paddle. Now there are further limitations on clutch control, and the movement and location of the paddles."
Engineers can no longer manipulate the settings of the paddle to restrict it to within the optimum biting point for the clutch, thus putting the driver in, well, the driving seat.
As a result, engineers have had to find other ways to make things easy for the driver, for example the Mercedes team added molded clutch paddles to their 2017 steering wheel.
McLaren described it as a 15,000-piece jigsaw puzzle: "At a time of big regulatory change, when all the pieces of that puzzle get thrown into the air, scattered to the four winds, and then need to be pieced together within a desperately short time, the pressure to get it right is immense. And painfully stressful."
In an interview, McLaren-Honda's Technical Director, Tim Goss, commented that whilst in Formula 1 there have been multiple regulation changes, the changes for the 2017 season are the most significant the sport has seen.
Not only will they have an impact on the performance of the sport, they will also change how the cars look themselves: "These 2017 cars are lower and squatter; they just look meaner…But for the engineering department, the changes to the aerodynamic and tire regulations are the two most challenging areas to tackle," Goss said.