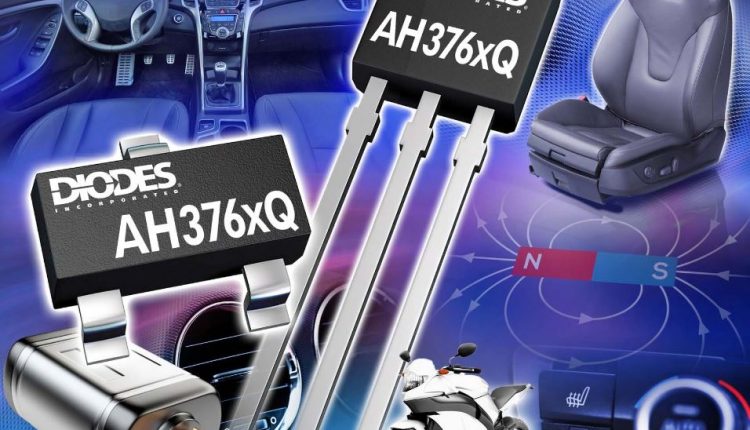 Hall Effect Latches Offer Eight Sensitivity Options
The AH376xQ family of AECQ100-qualified Hall effect latches introduced by Diodes Incorporated offers eight magnetic sensitivity options to cover the requirements of numerous automotive applications. Such uses include commutation, encoding and position control of the various motors, pumps, fans and valves found in vehicle cabins for operating windows, sun roofs, seats, tailgates and air-conditioning. These Hall effect latches can also be used in the engine bay for steering and sensing the speed and position of the crankshaft, camshafts, cooling fans, and water, oil and fuel pumps.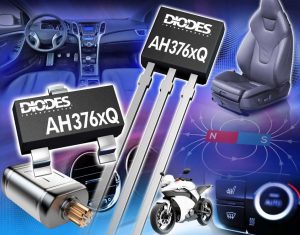 With an extended -40oC to +150oC temperature range and a 3V to 28V supply voltage range, the AH376xQ devices provide robust and reliable operation by tolerating the harsh automotive environment with its extremes of low crank voltage as well as over-voltage excursions. Comprehensive protection features enhance this robustness: a low leakage-blocking diode guards against reverse-supply connection; input and output clamps help withstand transient voltages; and an output current limit avoids overload. Plus, the devices have an ESD capability of 8kV and can withstand a transient load dump up to 32V.
The AH376xQ family provides eight different magnetic operation and release thresholds (BOP and BRP) to address the wide variety of applications with regard to magnet strength or sensor to magnet distance. These range from the highest BOP/BRP sensitivity of +25G/-25G to the lowest sensitivity of +210G/ 210G. Pin-compatibility is maintained across the range and all devices are offered in industry-standard SOT23 and SIP3 packages. The AH3762Q/3Q/4Q/5Q are also offered in an SC59 package and provide the opposite polarity for magnetic detection compared to the SOT23 package.
The AH376xQ Hall effect latch ICs offer superior performance with a fast 10μs power-on time and a quick 3.75μs response time to reduce delays and commutation errors. A chopper-stabilized design with a low temperature coefficient minimizes switch point drift and provides enhanced immunity to stress. Flexibility is further enhanced by the open-drain output configuration, allowing the external pull-up resistor value to be adjusted to suit the application.
The AH376xQ Hall effect latch family is fully qualified to the automotive AECQ100 standard and meets the AIAG production part approval process (PPAP). Available in SOT23, SIP3 or SC59 packages, devices are priced from $0.295 each in 1k quantities.