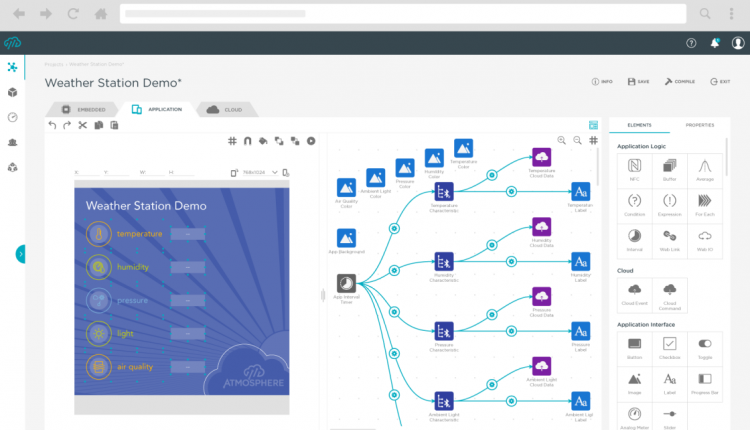 How This IoT Start-Up Snagged a "Best of Sensors" Award
Just a few years ago, Atmosphere IoT launched, allowing innovators access to IoT solutions in a fast and simple way in order to build, connect, and manage complete embedded-to-cloud systems.
And last week at Sensors Expo & Conference in San Jose, the company was named a 2019 "Best of Sensors" Award winner. Atmosphere was recognized as the Startup of the Year, which highlights cutting-edge advancements and achievements that are moving the sensors industry forward.
So, what makes Atmosphere worthy of such a title? Let's take a quick look at what the company does and how the platform works so that we're prepared for the next wave of technology.
What is it?
In essence, the platform is a visual approach to IoT that gives IoT developers what they need to build, connect and manage embedded-to-cloud solutions so that they don't need to struggle to integrate untested components from multiple vendors and places. Users can get started prototyping right away and fast track the development cycle from concept through deployment.
The low-code software platform enables rapid application development and deployment of sensor-to-cloud IoT solutions. It's hardware, wireless and cloud agnostic and the robust library of sensors, modules and ICs includes numerous embedded hardware platforms as well as leading short-range and long-range wireless technologies.
Build IoT applications
Rapidly create projects through Atmosphere's drag-and-drop elements, blocks of pre-made code that perform a variety of functions, from reading embedded sensors to sending commands from the cloud directly to your device. Connect elements together and bring ideas closer to market.
Connect them securely and seamlessly
Integrates connectivity to the cloud for every project, enabling provisions and communication with devices securely and reliably.
Manage devices
When you're done, monitor and manage devices, data, and users with visual dashboards, analytics, and notifications.
About the Award
Sensors Expo & Conference is the industry's premier event dedicated to sensors, connectivity, and IoT. The winners of the 2019 Best of Sensors Awards represent the advances in innovations and real-world applications of sensors as well as the teams and individuals who demonstrate a commitment to engineering excellence and overall ingenuity.
"For more than three decades Sensors Expo has been bringing together the most exciting technological advancements and cutting-edge applications from across the industry. The winners of this year's Best of Sensors Awards underscore just how far-reaching the impacts of these innovations have become. Atmosphere IoT personifies the commitment to engineering excellence and overall ingenuity we look for and we are thrilled to recognize their efforts in an extremely competitive field," noted Cal Groton, Event Director, Sensors Expo & Conference.
"We're absolutely thrilled and honored that our efforts to simplify sensor-to-cloud connectivity have been recognized as cutting-edge advancements by Sensors Expo & Conference," said Jeff Liebl, CEO of Atmosphere IoT Corp.