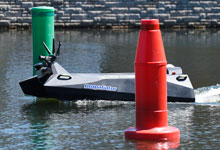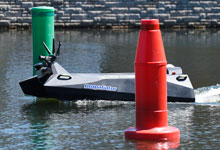 In a race for points, honor and cash, 16 teams—from the United States and as far away as Indonesia, Taiwan and South Korea—hit the water with custom-built autonomous surface vehicles (ASVs) at the eighth annual RoboBoat Competition, held July 7-12 in Virginia Beach, Virginia.
The competition—sponsored by the Office of Naval Research and the Association for Unmanned Vehicle Systems International Foundation—is an autonomous robotics contest where teams put their student-built ASVs through a series of challenges.
"The course provides students with realistic maritime environment missions," said Kelly Cooper, a program officer in ONR's Sea Warfare and Weapons, Ship Systems and Engineering Research Division. "The successes and challenges students experience via the competition are good preparation for a future in engineering, hopefully for the Navy. From completing a run to making onsite adjustments, RoboBoat offers students a firsthand look at what real-life engineers go through when developing and testing Navy technologies for our Sailors and Marines."
The teams, largely composed of university students, were evaluated on their vessel design and performance. The design component focused on innovation, quality of engineering and craftsmanship; the performance challenge looked at each vehicle's ability to execute specific missions on the water.
The mandatory tasks measured propulsion, navigation and speed as the ASVs passed through a set of gates. These tasks demonstrated their visual sensor and guidance integration, speed and ability to navigate a channel. All of those tasks had to be successfully completed for any mission challenge points to be awarded.
Other challenges included obstacle avoidance, automated docking, acoustic beacon positioning, launch and recovery of an unmanned aerial vehicle from a moving boat and, finally, return to dock.
"Autonomy is a major focus for the Navy today," said Cooper. "The experiences received here provide students a crucial stepping stone in developing the skills needed to be successful in this important naval career field—these are the scientists and engineers that will undertake the fundamental research and development of our future autonomous naval systems."
As recent programs like Autonomous Swarmboats, Low Cost UAV Swarming Technology and Laser Weapon System show, autonomous and unmanned systems will address a wide range of naval functions in the future. From providing logistical support to defeating asymmetric threats to humanitarian rescue operations, these systems will provide crucial support to warfighters.
Chief of Naval Operations Adm. Jonathan Greenert has emphasized the importance of autonomy in his Sailing Directions.
Teams had four days of course practice to troubleshoot system issues before entering into the qualifying sessions and final round to compete for cash prizes.
Embry-Riddle Aeronautical University was this year's biggest winner, bringing home the top prize of $7,000. Florida Atlantic University won second prize and $4,000; University of Michigan took third and $3,000; and the Daytona Beach Homeschoolers came in fourth, earning $2,500. Smaller awards of $1,000 and $1,500 in various special award categories went to Electronic Engineering Polytechnic Institute of Surabaya, the University of Ulsan and the University of Florida.
The other participating institutions were Old Dominion University, Temple University College of Engineering, the Catholic University of America, Georgia Tech, National Cheng Kung University, University of Central Florida, Villanova University and the University of West Florida.
Sierra Jones is a contractor for ONR Corporate Strategic Communications.
About the Office of Naval Research
The Department of the Navy's Office of Naval Research provides the science and technology necessary to maintain the Navy and Marine Corps' technological advantage. Through its affiliates, ONR is a leader in science and technology with engagement in 50 states, 55 countries, 634 institutions of higher learning and nonprofit institutions, and more than 960 industry partners. ONR, through its commands, including headquarters, ONR Global and the Naval Research Laboratory in Washington, D.C., employs more than 3,800 people, comprising uniformed, civilian and contract personnel.