Just about 85 years ago, Pluto was discovered by an ordinary farmer's son with an ordinary telescope.
Now, after 50 years of planning, a NASA spacecraft has reached the planet.
"Once again we have achieved a historic first. The United States is the first nation to reach Pluto, and with this mission has completed the initial survey of our solar system, a remarkable accomplishment that no other nation can match," said Charles Bolden, NASA Administrator.
Scientists waited a nail-biting 24 hours for New Horizons to carry out a pre-programmed call back to the Johns Hopkins University Applied Physics Laboratory (APL) in Laurel, Maryland to transmit a series of status updates that indicate the spacecraft survived the flyby and is in good health. The "call"  was received after 9 p.m. EDT Tuesday night.
Pluto is the first Kuiper Belt object visited by Earth. New Horizons will continue its adventure deeper into the Kuiper Belt, where thousands of objects hold frozen clues as to how the solar system formed.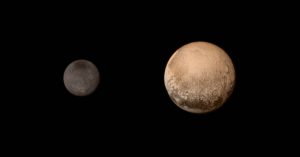 "Following in the footsteps of planetary exploration missions such as Mariner, Pioneer and Voyager, New Horizons has triumphed at Pluto,"said Alan Stern,New Horizons principal investigator of the Southwest Research Institute in Boulder, Colorado. "The New Horizons flyby completes the first era of planetary reconnaissance, a half century long endeavor that will forever be a legacy of our time."
New Horizons is collecting so much data it will take 16 months to send it all back to Earth.
Finally we have an answer to how big the planet is, too.
Mission scientists have found Pluto to be 1,473 miles in diameter- somewhat larger than many prior estimates. Images acquired with the Long Range Reconnaissance Imager (LORRI) were used to make this determination. This result confirms what was already suspected: Pluto is larger than all other known solar system objects beyond the orbit of Neptune.
APL designed, built and operates the New Horizons spacecraft and manages the mission for NASA's Science Mission Directorate. SwRI leads the mission, science team, payload operations and encounter science planning. New Horizons is part of NASA's New Frontiers Program, managed by the agency's Marshall Space Flight Center in Huntsville, Alabama.
The research will help NASA scientists better understand the solar system.