Picture this: You're watching a movie, let's say about a fire, and you find yourself feeling hot so you want a nice cold beverage to cool off. With that in mind, now imagine that your refrigerator could actually recommend movies based on what you're snacking on in the refrigerator.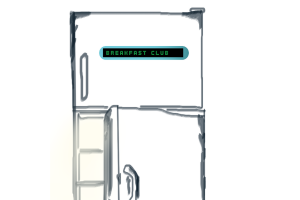 It's not too foreign a concept thanks to a team of students David Choi, Steve Gong, Lance Jordan, Kaitlin Till-Landry, and Nick Hiltner whose idea was originally part of the GE Firstbuild hackathon, "Think Inside the Icebox," event back in June at the Makerbot headquarters in New York.
The team's Chiliflix magnets as they're being called, monitors your eating habits based on time of day and then recommends movies based on your behaviors. For now, the device can't tell exactly what you're eating so it uses time as a motivator. Depending on the time of day you're opening the refrigerator door, Chiliflix will start suggesting movies from particular genres, using themoviedb.org for movie listings.
A light sensor inside of your refrigerator collects the data for the movie recommendations.
The Chiliflix team used the Tinkercad application to create the casing for the magnet and sensor, which were both 3D-printed using a Makerbot. The Chiliflix is equipped with an LED screen that (with a little help from Arduino) will display the movie title suggestions.
The current technology is still a work-in-progress, but hopefully one day they can advance it enough to capture exact snacks and make more targeted movie recommendations.
More information at Chiliflix.