The BBC has teamed up with 29 big names in technology including ARM, Freescale, Microsoft, Samsung, and element14 to bring us a pocket-sized, codeable computer for children to play around with.
Oh yeah and the BBC will give away up to 1 million devices to every 11 or 12 year old child in the UK – for free.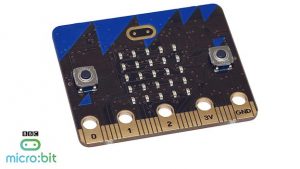 According to the BBC the UK is struggling in technology sector of education and the company wants to change that with this Raspberry-Pi-like device. The tiny computer, measuring at 4 cm x 5 cm, can be coded and controlled to work with digital games and apps. Some simple actions like lighting up LEDs or displaying a patter can even be coded on it in just seconds, with no previous computing experience.
It comes equipped with sensors, kits and objects and can work in conjunction with Arduino, Galileo, littleBits and Raspberry Pi as more of a jumping-off point to bigger and more complex computing.
"Channeling the spirit of the Micro for the digital age, the BBC micro:bit will inspire a new generation in a defining moment for digital creativity here in the UK. All you need is your curiosity, creativity and imagination – we'll provide the tools. This has the power to be transformative for the UK. The BBC is one of the few organizations in the world that could convene something on this scale, with such an unprecedented partnership at its core," said Tony Hall, Director-General of the BBC, in a media release.
micro:bit has some pretty cool features like 25 red LEDs, programmable buttons, on-board motion detectors, Bluetooth tech, and a built-in compass, so kids can really harness their creative sides to create games, robots, or connect it to over devices like phones and cameras.
Everything on the micro:bit is programmable with software that will be available on microbit.co.uk later this summer. There will be a private area on the website for kids to test and save their designs before they transfer them to the actual micro:bit.