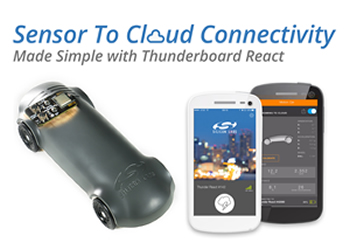 IoT design simplified by sensor-to-cloud developer kit
A cost-effective prototyping vehicle that makes it easy to connect wireless sensor nodes to mobile devices and the cloud, has been introduced by Silicon Labs, to help businesses make data-driven decisions. The Thunderboard React developer kit features a battery-powered, sensor-rich demonstration board with BLE technology and a powerful ARM Cortex-M4 processor for IoT connectivity, along with open-source design files and software for mobile apps running on Android and iOS devices.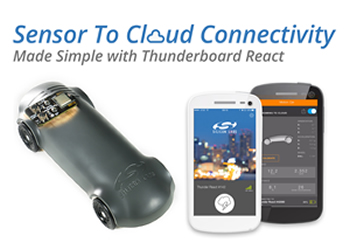 All hardware schematics, firmware, mobile apps and cloud software are available at no charge to developers.
Thunderboard React simplifies IoT design by providing the sensing, processing and wireless components needed to connect a battery-powered sensor node to a cloud database. The on-board sensors measure motion, light and environmental conditions. This real-time sensor data is transmitted to the cloud over a Bluetooth connection. An intuitive mobile app displays the data on smartphones and tablets while enabling the user to control the board.
No RF expertise is required to develop wireless sensing applications with Thunderboard React. Developers can get up and running in minutes with Silicon Labs' easy-to-use wireless development tools, and the pre-certified BLE module minimizes the time and effort required for global wireless certifications.
The energy-efficient components on the Thunderboard React board enable developers to create IoT nodes powered by small coin-cell batteries. Silicon Labs has optimized the provided firmware and mobile app to take advantage of the power-saving features of the board components. The components can be easily integrated and modified to enable Bluetooth-to-cloud connectivity for a developer's particular IoT application.
Daniel Cooley, Senior Vice President and General Manager, IoT products, Silicon Labs, commented: "Thunderboard React, along with our free firmware and source code, provides developers and makers with an easy, flexible way to evaluate and prototype wireless sensor nodes that connect to the cloud through BLE. Our customers can now create more competitive, secure and useful IoT products that deliver cloud-based analytics and business intelligence for end users."
An optional Pinewood Derby-style car kit can be ordered to use with Thunderboard React, providing an ideal vehicle for demonstrating the real-life capabilities users can unleash. The Thunderboard React board fits neatly into the body of the derby car and displays acceleration, speed, distance, inertia, proximity, humidity and temperature. Popularized by the Cub Scouts, Pinewood Derby cars and races have been a scouting tradition since 1953, and Silicon Labs has modernized the racing experience by making them "smart cars." Silicon Labs has staged Pinewood Derby demonstrations at numerous industry events to showcase the powerful sensor-to-cloud connectivity capabilities of Thunderboard React.
The Thunderboard React kit, including the demonstration board, firmware, mobile app and cloud software, is available now for $29 (MSRP). The Thunderboard React Derby Car kit, which bundles a Pinewood Derby car with the Thunderboard React board, is available now for $59 (MSRP).