The ASA 6W-M series of 6W DC/DC converters has been introduced by Artesyn Embedded Technologies, designed to be a cost-effective solution for applications in industrial and medical instrumentation, requiring a certified compliance with the stringent industrial or medical safety standards.
The series provides a reinforced insulation system of 4,000VAC, insulation resistance of 10G, is rated for 2XMOOP and has medical safety certification to UL/cUL/EN/ IEC 60601-1 3rd Edition. This highly reliable product family has a calculated MTBF of one million hours.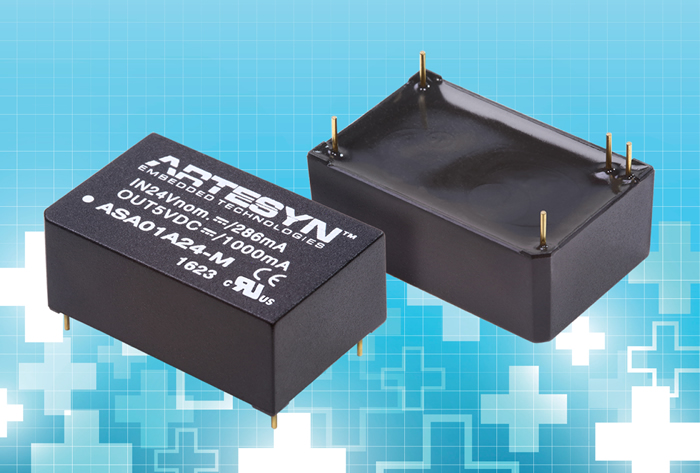 Encapsulated in a compact 31.8×20.3mm (1.25×0.8″) industry-standard package, the ASA 6W-M series offers up to 80% efficiency and covers a wide input voltage range; nominally 12, 24 or 48V (9-18, 18-36 or 36-75VDC) available in single or dual output variants.
Artesyn's ASA 6W-M series consists of 5 and 12V single output models together with ±12 and ±15V dual output models. These DC/DC modules can operate from -40 to +75°C with full power available to +55°C and power derating at higher temperatures. They offer additional features such as the low leakage current required in medical applications, protection from overvoltage and EMI characteristics that can meet EN 55022, class A and FCC level A.
These compact converters feature overload protection, are RoHS compliant and are shipped with a three-year product warranty.