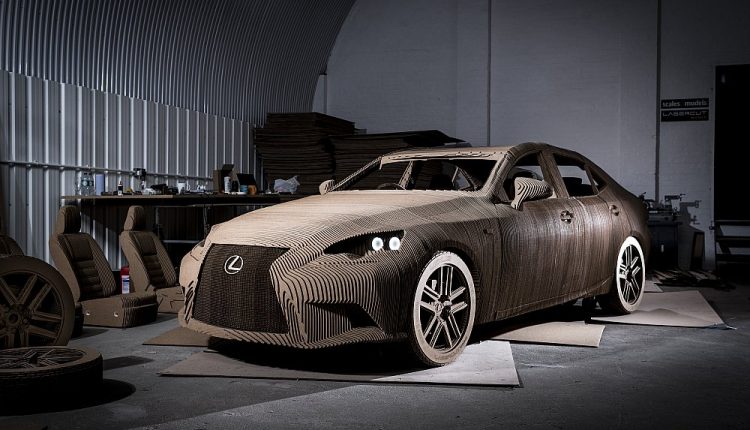 Lexus Made A Fully Functional Electric Vehicle Out Of Cardboard
If you thought Lexus' Hoverboard was cool, wait until you see its newest creation: an origami-inspired electric vehicle constructed from cardboard. Oh, and you can actually drive it.
The Origami car was created as a way of honoring Lexus's takumi craftsmen and women and was constructed by a team of five designers from companies like LaserCut Works and Scales and Models over the course of three months.
The vehicle is a cardboard replica of the new IS saloon and is equipped with a fully fitted interior, functioning doors, headlights and rolling wheels.
In terms of size and complexity, the project was an unprecedented undertaking for LaserCut Works and Scales and Models, London-based specialist companies with extensive experience in the design and creation of prototypes, architectural models and bespoke commissions.
The art of Origami is skill that can be fostered over time, so as you can imagine, making an entire Origami-inspired vehicle wasn't an easy task to undertake. For example, the seats and wheels were areas that took the team a few attempts and re-working.
"This was a very demanding job, with five people involved in the digital design, modelling, laser cutting and assembly. Just like Lexus, we were committed to producing the best possible quality," said Ruben Marcos, Scales and Models Company founder and director, in a news release.
How they did it
Lexus provided the team with a digital 3D model of the IS which was divided into major components that were  T digitally rendered in 10mm "slices" in order to create two-dimensional profiles that are required for the laser cutting of each of the 1,700 sheets of 10mm-thick of cardboard. Each layer was given its own reference number to help ensure it was assembled in the right sequence and the entire assembly was done by hand. To get the entire car to stick together, the team used a water-based/wood glue that needed to be left to sit for 10 minutes each time it was applied. Once the glue dried, no changed could be made.
"In effect we created our own vehicle production line," said Marcos. "There was a lot of repetition in the process and we had to work with military precision, just like the teams that make the real Lexus cars."
The vehicle was revealed yesterday at the Grand Designs Live Show at the NEC in Birmingham, England.
Watch the YouTube video for more information: