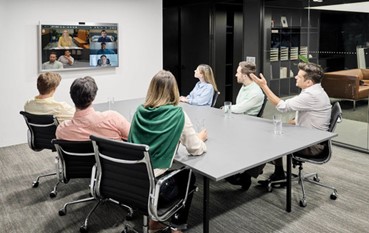 Collaboration just got easier. LG Business Solutions USA announced the LG One:Quick series of conferencing and collaboration solutions to support in-person and remote teamwork. The series includes the 55-inch all-in-one LG One:Quick Works video conferencing display (55CT5WJ), a versatile 43-inch LG One:Quick Flex touch display (43HT3WJ), and LG One:Quick Share (SC-00DA) wireless presentation system, that plugs into USB ports of up to four PC. The solution allows users to automatically share their screens with compatible LG digital signage solutions,
integrating everything needed to combine video conferencing, screen-sharing, on-screen collaboration, scheduling, and more in one simple-to-deploy solution.
The all-in-one solution features a built-in Windows PC, crisp 4K UHD camera, microphone, speaker and digital whiteboard. Remote Meeting, users can use shortcuts to effortlessly install popular video conferencing and collaboration apps such as Microsoft® Teams, Webex and Zoom. The system is large enough to support a premium collaboration experience and portable enough to use in virtually any spaceA microphone and camera, intuitive interface, full touch pen support and whiteboard functionality complete the package. One:Quick Flex can be mounted to a movable stand for easy transport between spaces.
Both the LG One:Quick Works and Flex support 802.11ac Wi-Fi, RJ45, and Bluetooth communications and feature multiple HDMI and USB ports, including USB-C. For more information click here.
Original Release: PR Newswire