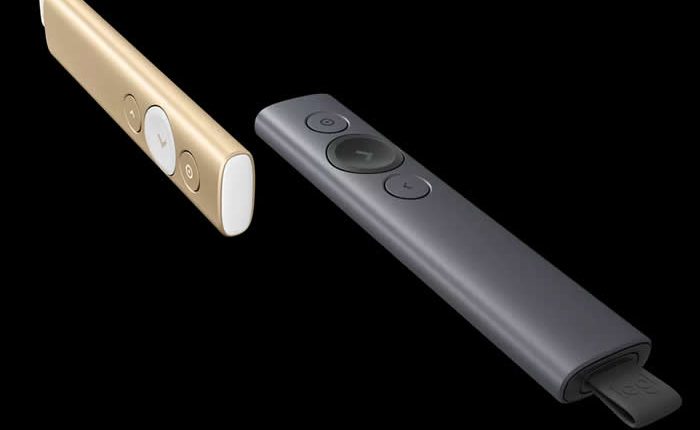 Presentations are a necessary evil of the corporate world. According to Logitech, that typically means watching someone with a laser pointer gesture at a screen while awkwardly fumbling with an ancient remote (Logitech hasn't updated its own in years).
Logitech's new Spotlight presentation remote is an attempt to remedy this by bringing presentations to the present day with a new, modern design. It's an elegant-looking device, made of machined aluminum and a dramatically simplified interface. Spotlight cuts down on buttons to make it easier to use without looking at the remote, offering only a single oversized forward button, a back button placed below it, and a media button on top. And it's compatible with most major presentation software, including PowerPoint, Google Slides, Keynote, and Prezi.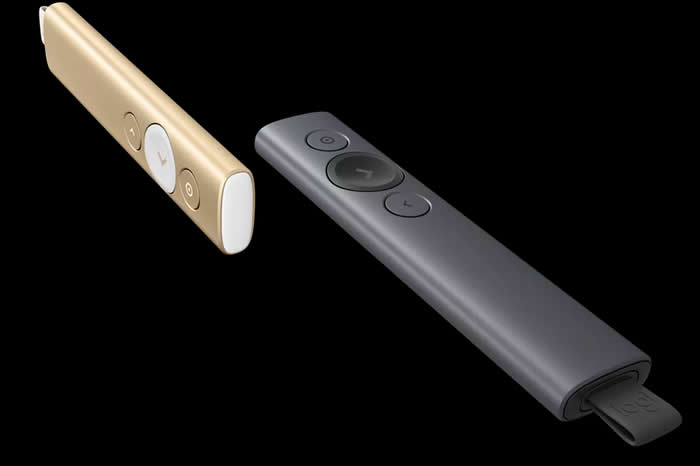 Instead of a laser pointer, Spotlight — as the name suggests — can highlight relevant information on a slide through a digital spotlight by holding down the media button, which can be controlled through gestures. The remote also has a magnification feature for similarly highlighting information or zooming in on a picture.
Logitech is bundling a few other interesting ideas into Spotlight as well. Users can set a timer before starting a presentation, which will cause the remote to vibrate as a warning that time is almost up. Volume can be controlled on a connected computer through gesture controls, along with cursor movement (for easily starting and stopping video from a distance, for example). But most of those cool features only work if you're using Logitech's companion software. So if you're presenting off someone else's computer, you're limited to just simple forward/back interactions.
Getting down to specifications, Spotlight can connect to your computer over Bluetooth or with a USB dongle embedded in the base of the remote. Volume on a connected computer can also be controlled using additional gesture controls. Spotlight charges over USB-C, and can quick charge to get three hours of use off a one-minute charge, for when you inevitably forget to charge it before a big presentation.
Spotlight is available today from Logitech in gold and slate colors, along with the Apple Store, which will be getting an exclusive silver color, for $129.99.
More information: The Verge