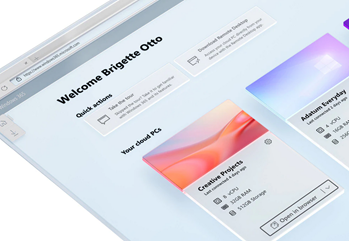 Microsoft launched a new category of Windows, taking the operating system to the Microsoft cloud, streaming apps, data and settings to personal or corporate devices. Windows 365 secures and stores information in the cloud, not on the device.  The new hybrid personal computing Cloud PC uses the power of the cloud and the device's capabilities. The move addresses facilitating hybrid work models when employees are both on-site and distributed globally.
With an easing of the pandemic, changes in working are emerging with virtual processes and remote collaboration that is secure. Organizations needed a combination of productivity, versatility and cybersecurity for workers while their own data remains secure. Features include:
There's a choice of either Windows 10 or Windows 11 with Cloud PC based on per-user per-month pricing.
Users can log in and pick back up where they left off across devices and for IT, Windows 365 simplifies deployment, updates and management.
Small and midsize businesses can purchase Windows 365 directly or through a cloud service provider and set up their organization. Microsoft continues to innovate in Azure Virtual Desktop for those organizations with deep virtualization experience that want more customization and flexibility.
Windows 365 leverages the power of the cloud and the principles of Zero Trust.
Windows 365 will be generally available to businesses of all sizes starting on Aug. 2, 2021. More information can be found at https://Microsoft.com/Windows-365.
Original Release: PR Newswire