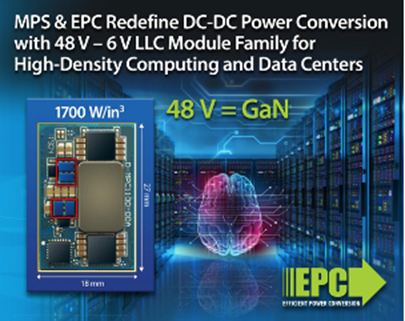 Monolithic Power Systems launched a new family of 48V – 6V digital DC-DC power modules for data centers using eGaN FETs from EPC.
The MPC1100-54 is the first in the new product family to include modules in an LLC topology using eGaN FETs to achieve efficiency above 97% in a footprint of only 27 mm x 18 mm x 6 mm for 48 V – 6 V conversion. An advantage of 48 V – 6 V front-end conversion is the enabling of a high-frequency secondary stage small enough to be placed closer to the xPU/ASIC/GPU to reduce the power distribution loss by 4x .
For high-density server applications, record power density and efficiency can be achieved with simple, low-cost topologies such as an LLC DC-DC converter. eGaN FETs are well suited for LLC converters because of their combined low gate charge with 5 V gate operation that yields very low gate power consumption, ultra-low on-resistance, and low output capacitance charge.