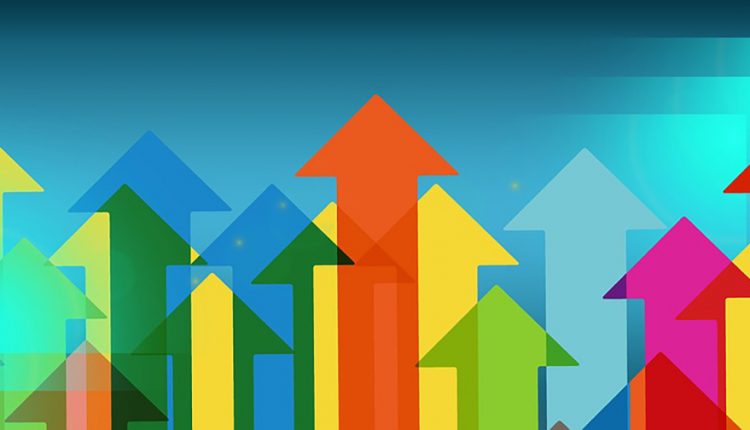 Despite a slowdown, combined revenues for optoelectronics, sensors/actuators, and discrete semiconductors are expected to barely set a 10th consecutive record high in 2019, followed by gradual strengthening in 2020 and 2021, says new updated forecast.
With the global economy slowing and the fallout from the U.S.-China trade war causing systems makers to draw down factory inventories, combined sales of optoelectronics, sensors and actuators, and discrete semiconductors (O-S-D) are on pace to grow just 1% in 2019 to $83.5 billion after rising 9% in 2018 and 11% in 2017, according to IC Insights' update of the O-S-D marketplace. IC Insights believes O-S-D products will account for about 19% of total worldwide semiconductor sales in 2019 with integrated circuits representing 81% of the entire chip market this year.
Despite weakening conditions in 2019, the diverse O-S-D group—with products that are not part of the much larger IC market—is expected to set a 10th consecutive record-high level in combined annual sales this year. The market update shows a half-dozen O-S-D product categories reaching all-time high sales in 2019. In addition, record-high sales are expected in sensor and actuator products made with microelectromechanical systems (MEMS) technology and in total sensors this year.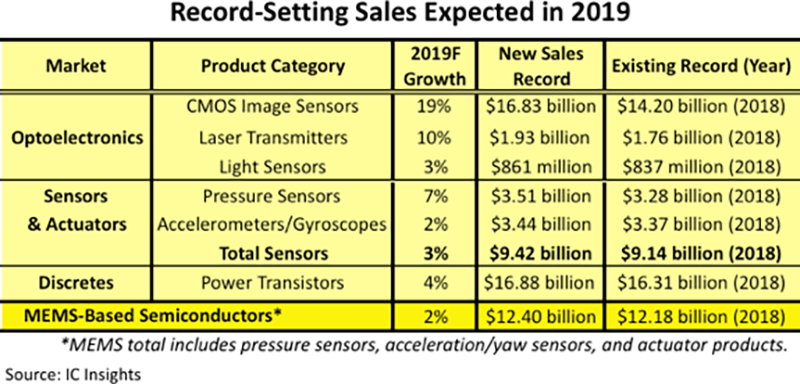 Optoelectronics sales are expected to increase by about 3% in 2019 to set a record-high $41.5 billion, with strong growth in CMOS image sensors and laser transmitters offsetting declines in light-emitting diodes (LEDs), optical couplers, charge-coupled device (CCD) image sensors, infrared devices, and other products in this market segment. Sensor/actuator sales are projected to be up by just 1% in 2019, which will lift revenues to an all-time high of $14.9 billion, but the increase would be greater if significant price erosion was not canceling out strong double-digit percentage growth in unit shipments this year. The commodity-filled discretes market is forecast to drop 1% in 2019 to $27.1 billion with power transistors being the only product category in this segment growing in the year.
IC Insights believes sales growth in all three O-S-D market segments will gradually increase in 2020 and 2021 partly because of modest improvements in the global economy and demand for new systems capabilities, such as face recognition, three-dimensional imaging and machine vision, more sensors for automated controls and embedded artificial intelligence (AI), fifth-generation (5G) cellular services, the spread of self-driving features in cars, and the ongoing electrification of automobiles, including hybrid gas/electric vehicles and all-electric models.