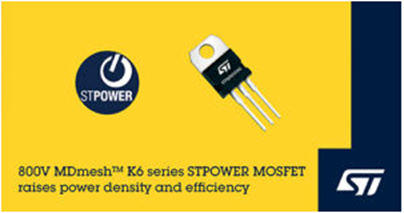 STMicroelectronics New Power MOSFETs Add Efficiency, Minimize Switching Power Losses
STMicroelectronics unveiled a new super-junction STPOWER MDmesh K6 series that minimizes system-power losses for such lighting applications as those based on flyback topology including LED drivers, HID lamps, adapters and power supplies for flat-panel displays.
The 800V STPOWER MDmesh K6 series combine high power density with market-leading efficiency and has reduced threshold voltage compared with the earlier K5 generation for a lower driving voltage.
An integrated ESD protection diode increases the overall ruggedness of the MOSFET up to Human Body Model (HBM) Class 2. The DPAK and TO-220FP versions will be in full production by January 2022. Pricing starts at $1.013 for orders of 1000 pieces and the complete MDmesh K6 product portfolio will be introduced by 2022. For more information visit www.st.com/stpower-800v-mdmesh-k6.
Original Release: ST Microelectronics