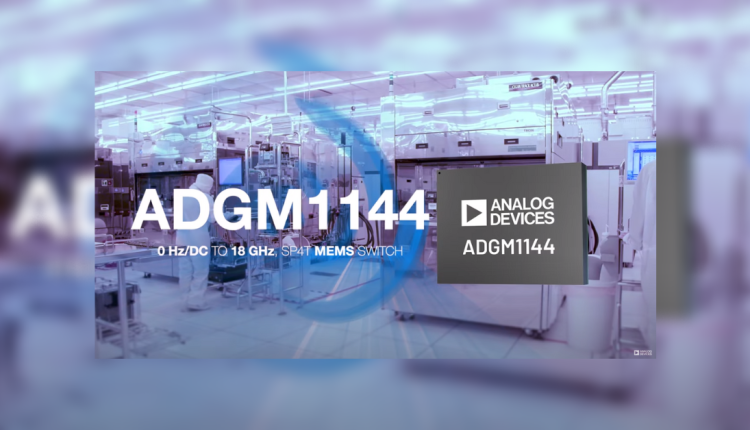 The ADGM1144: A Wideband SP4T Switch Revolutionizing RF and Precision Equipment Switching
When it comes to RF and precision equipment switching, finding a solution that offers high linearity, low insertion loss, and wide RF bandwidth can be a challenge. The ADGM1144, a wideband, single-pole, four-throw (SP4T) switch from Analog Devices, Inc., effectively meets these requirements. This switch is manufactured using the company's microelectromechanical system (MEMS) switch technology. The result is a switch with a small form factor that functions down to 0 Hz/DC, making it a highly desirable choice for diverse RF and precision equipment switching needs.
The ADGM1144 is not just another SP4T switch. Its integrated driver chip generates a high voltage that can electrostatically actuate the switch, allowing control through a parallel interface and a serial peripheral interface (SPI). All four switches on the device are independently controllable, adding to the flexibility and versatility of the ADGM1144.
The device is packaged in a compact 24-lead, 5 mm × 4 mm × 1.0 mm land grid array package (LGA), further reinforcing its small form factor. Notably, the ADGM1144 includes integrated 10 MΩ resistors. These resistors, essential for avoiding floating nodes, are integrated into the device, eliminating floating nodes on the switch and saving significant board space.
The ADGM1144 has wide-ranging applications, including but not limited to automatic test equipment (ATE) load and probe boards, DC with high-speed digital testing, relay replacements, RF test instrumentation, and RF wireless communications. It also finds uses in a variety of ATE environments, including RF, digital, and mixed signals.
In conclusion, the ADGM1144 is an innovative SP4T switch that offers unparalleled performance and flexibility in a compact form factor. Its wide RF bandwidth and low insertion loss capabilities, combined with its unique ability to function down to 0 Hz/DC, make it an excellent choice for RF and precision equipment switching applications.