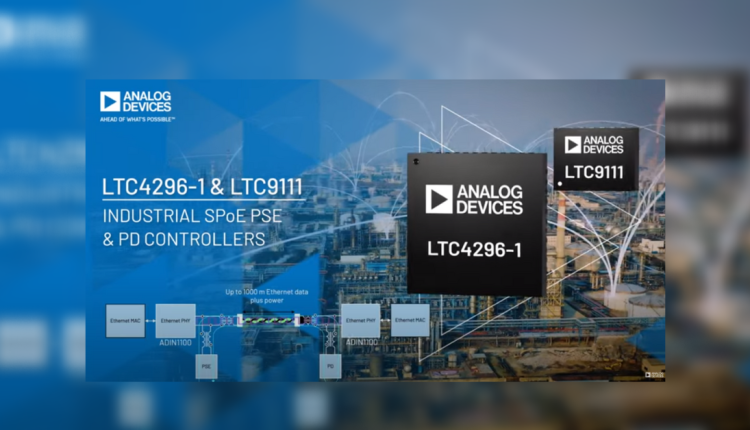 The LTC4296-1: A Single-Pair Power Over Ethernet Controller for Simplified System Design
In the fast-paced world of system design and installation, engineers continually seek technology solutions that are not only reliable but also streamline their work processes. One such solution is the LTC4296-1, an IEEE 802.3cg-compliant five-port, single-pair power over Ethernet (SPoE) controller, designed for power sourcing equipment (PSE).
The SPoE technology integrated into the LTC4296-1 significantly simplifies system design by delivering standardized power and Ethernet data over a single-pair cable. As a result, design engineers can work with increased efficiency and flexibility.
Designed for robust interoperability, the LTC4296-1 is compatible with 802.3cg powered devices (PDs) in 24V or 54V systems. Power delivery is achieved via external, low drain-to-source on resistance (RDS(ON)), N-channel metal-oxide semiconductor field-effect transistors (MOSFETs). This design minimizes voltage drop, ensuring ruggedness and reliability in a variety of applications.
The LTC4296-1 features high-side circuit breakers with foldback and analog current limit (ACL), providing controlled inrush and short-circuit protection. An optional low-side circuit breaker offers additional protection against backfeed faults and ground faults in nonisolated applications.
Furthermore, the LTC4296-1 provides a plethora of useful features including serial communication classification protocol (SCCP) and maintain full voltage signature (MFVS). These functions ensure full operating voltage is only applied when a PD is present. PD-initiated sleep and wake-up modes are also supported, with the WAKEUP pin enabling wake-up forwarding.
For those requiring telemetry, status, and software control features, these can be accessed via a serial peripheral interface (SPI) bus interface, equipped with packet error code (PEC) protection, offering extra security for your system.
One of the standout features of the LTC4296-1 is its versatility. This SPoE, PSE solution is suitable for 10BASE-T1L controllers and switches. It can be easily integrated with the Analog Devices, Inc., 10BASE-T1L transceiver portfolio, which includes the ADIN1100 (physical layer, PHY), ADIN1110 (MACPHY), and ADIN2111 (2-port switch).
The LTC4296-1 is suitable for various applications such as operational technology (OT) systems, building and factory automation systems, field instruments and switches, security systems, and traffic control systems. In short, the LTC4296-1 is a versatile, reliable, and efficient solution for design engineers navigating the complex world of system design and installation.