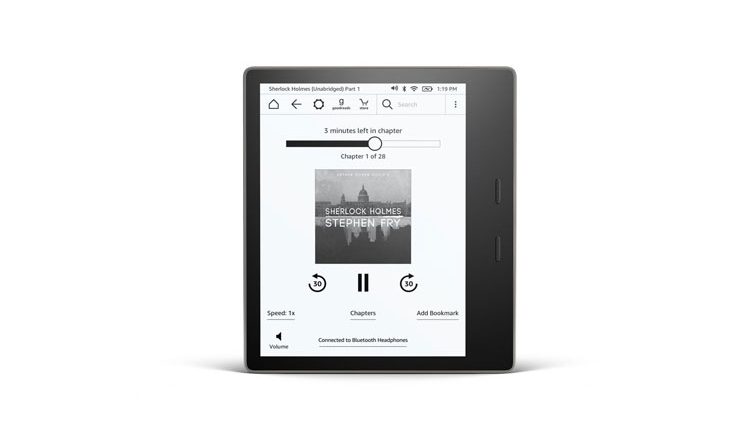 Credit: WIRED
Amazon may well be focusing on the smart home and Alexa integration with its hardware, but by releasing a new Kindle it is also, for now at least, committed to upgrading a device that is coming up to being ten years old.
The new Kindle Oasis, comes with Amazon's largest, highest-resolution Paperwhite display, and is also the first waterproof Kindle, which, considering many Kindle faithful use the device on holiday by swimming pools and on seashores, has been a long time coming.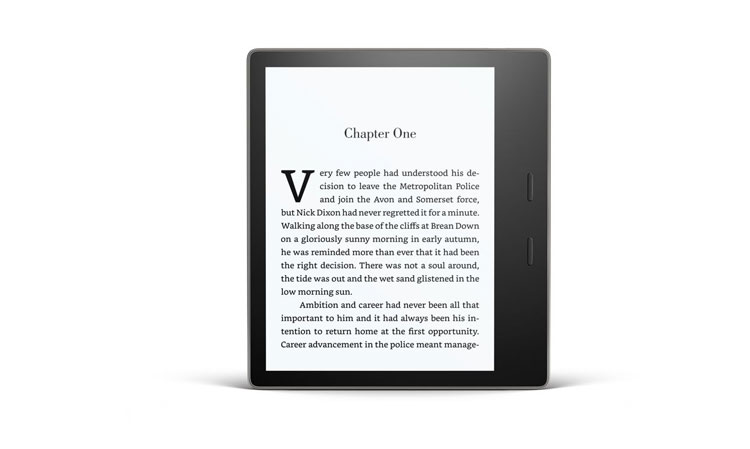 This new iteration of the the e-reader has a fast-charging battery entirely built-in, rather than split between the handset and the cover (as was the case with the previous Oasis), that can fully recharge in less than two hours. That battery will supposedly power the 7″, 300ppi display for up to six weeks. Amazon also claims the page turning speed has been boosted, too.
Three models
You can choose from three models: the 8GB Kindle Oasis is £230, while it is £260 for the 32GB model; a 32GB with free cellular connectivity comes in at £320. All are available for pre-order today and ship on October 31.
The expanded memory options are designed to support Audible, as this new Oasis also supports the audiobook format. Indeed, the device keeps track of where you have reached in a book, so that if you have purchased a title in both written and audio formats you can switch between the two without losing your place in the narrative. But due to a lack of 3.5mm jack, listeners will have to use Bluetooth-enabled speakers and headphones to listen to Audible content.
Kindle users holding generation 8 Kindles and the first Oasis will also get this Audible service on their devices in the coming months via an update.
The new design is very similar to the existing Oasis, despite being approximately 30% bigger. The shape tapers to 3.4mm at the display and weighs 194g (10g less than the Kindle Paperwhite). And thanks to its IPX8 rating, you can – wittingly or unwittingly – submerge the new Oasis in up to two meters of fresh water for up to 60 minutes.
One last new feature mirrors Apple's True Tone display as built-in ambient light sensors can automatically adjust the Oasis's display to compensated for your surroundings, whether you're in a dimly-lit room or outside in direct sunlight.
Despite the movement of the battery in the new Oasis solely to the device itself, Amazon is still supplying covers that double as stands for hands-free reading. You get a choice of two materials: £40 water-safe fabric covers and £55 leather covers. And, showing the tech industry fashion for ridiculous colour names shows no sign of calming, hue options range from Indigo, Sandstone and Charcoal to Midnight, Saddle Tan or Merlot.