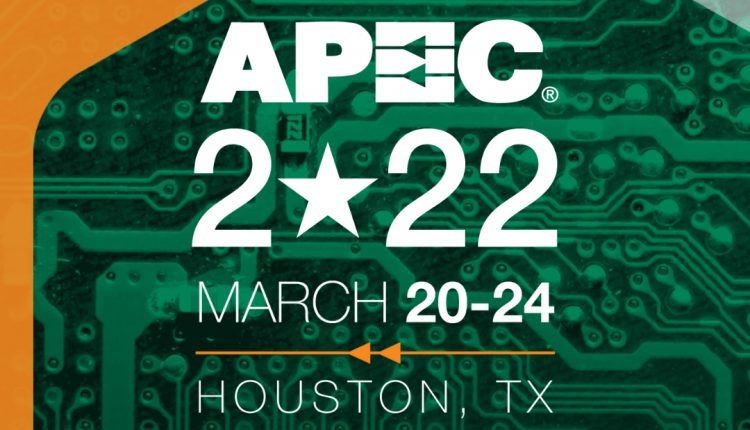 The Power and Freedom of APEC 2022
The week is abuzz with power emanating from the Applied Power Electronics Conference (APEC) in Houston that spotlights power electronics. The conference features a wealth of technical and industry sessions, providing information to technical and business pros who hone in on current topics.
As one who has been to a gazillion conferences spanning a couple of decades, it's heartwarming to see attendees show up in person rather than relying solely on the virtual events of the past couple of years to stay informed. Plus, you have a better chance to win stuff on the showroom floor—for example, at Empower's booth 1824, you can experience its IVR and E-CAP technology while having a chance at winning a pair of Ray-Ban Stories smart sunglasses or an Apple AirTag.
Many pre-show and post-opening announcements have hit the news, including, but certainly not limited to:
TI's new products help mitigate EMI and noise and include the 36-V, 3A LMQ66430, and LMQ66430-Q1 buck converters that integrate two input bypass capacitors and one boot capacitor. See technical article, "Using buck regulators with integrated capacitors to lower EMI and save board space." TI claims its TPS7A94low-dropout (LDO) linear regulator features the industry's lowest noise–at least 42% better than competing solutions and a high power-supply rejection ratio. See technical article, "LDO basics: noise – part 1."
MaxLinear announced a new Intelligent POLs (iPOLs) line for server, data center, networking, and wireless communications applications. The MxL76xxP series are step-down, synchronous regulators available in four versions based on current rating (6A, 12A, 20A, 30A) with a PMBus digital interface that allows for precision control and monitoring. To learn more, visitmaxlinear.com/MxL7630P.
Power Integrations announced a HiperLCS™-2 chipset that simplifies the design and manufacture of LLC resonant power converters. It features an isolation device with a high-bandwidth LLC controller, synchronous rectification driver, FluxLink, and a separate half-bridge power device using a 600 V FREDFETs with lossless current sensing and high- and low-side drivers. The architecture eliminates heatsinks and reduces component count by up to 40 percent compared to discrete designs.
Gowanda Electronics developed its first ceramic core chip inductor series for power and RF applications. This SMP0603 series can be used in test and measurement, industrial control, and automotive sectors for power management and commercial, medical, and military markets for RF.
Empower Semiconductor introduced a new family of integrated voltage regulators (IVRs), claimed to be the industry's smallest and fastest of their kind, as well as a technology for fabricating silicon-based alternatives to conventional capacitors.
For the 1st time, NexGen will showcase its Power Systems based on Vertical GaN technology. Based on Vertical GaN, NexGen will demonstrate the High Voltage (700V, 1200V) and robust (Avalanche Rated, 10Us Short-Circuit Protection) GaN Technology.
Stay tuned for a recap of a few more APEC announcements from the show—and if you're there, enjoy the freedom of face-to-face experiences.